Here's Brad Pitt and Angelina Jolie – A brief Vedic Astrological assessment…
Brad Pitt's Vedic horoscope puts his Moon in the otherworldly lunar mansion of Ketu or the South Node as westerners call it. Brad has a deeper hidden philosophical side which becomes more pronounced as he gets older. His connection to women and powerful magnetic appeal is also found in this combination of Moon and Ketu in Sagittarius in the company of Sun and Mercury – all in all a friendly gathering of planets.
The subtle projection of his ascendant is in Capricorn. This does make him somewhat conservative. There is a conventional side to Brad. Also with Saturn and Venus occupying the sign he carries himself and aloof yet charming manner. There are times when he may find it hard to express how he feels.
Angelina has Moon, Mars and Jupiter at right angle to all these planets in Brad's horoscope. This is challenging to say the least. It's not good for the lunar positions of a couple to be at right angles. Angelina's Moon is located in the soft stellar mansion of Mercury. There is no doubt that the karmic influence of the Moon in Brad's horoscope and of the Moon in Mercury's this star In Angelina's scope is a karmic combination and one in which the intellectual side of the relationship is prominent.
Their physical drives at some point will diverge. Brad's fiery Mars in Sagittarius is awash with the emotional energy of Angelina's Mars in Pisces. There is a deeply emotional element to Angelina's character. Being in the sign of Pisces, the sacrificial sign of the Zodiac, this accounts for her deep need to act as an ambassador for those who are less privileged. She has a natural love of people, children and causes for the downtrodden.
Although their Moons are in conflict, they have a reasonably good overall match in general terms. The positioning of Venus is also very important in the assessment of compatibility and in that case the opposite positions of Venus are considered an excellent omen for this couple. There will be a key social and familial connectedness. Both of them enjoy family life and this is probably one of the strengthening aspects of the relationship notwithstanding some of the other challenges that have been mentioned.
By transit the aspect of Saturn throughout this last two years has been a difficult one. The same applies for Brad. Both have had to change their attitudes and adjust to each other in each other's needs. But because of the beneficial aspect of Venus they have been able to weather the storm.
It's excellent news that their marriage has now taken place after many years of speculation by the public and fans worldwide. The recent transit of Jupiter into the position of Cancer ( sidereally ) has made contact with Venus the planet of love and in an excellent position from the Moon, Mars and Jupiter trio in Pisces. This is one of the classic transits for marriage or the birth of children. In any case it is a joyous time and one which elevates spirit and brings depth to the relationship.
For Brad the same transit aspect of Venus from the opposite side of the Zodiac is also sign of marriage. I often predict marriage times from this single transit of Jupiter and its twelve year cycle.
Around 2019 Brad may begin a very difficult cycle. This is a real test of his love and commitment to his family.  The strong positioning of Saturn and Venus indicate a loyal personality but one who does need constant attention and affection. That is the conflict of the five planets in Sagittarius and Saturn and Venus in Capricorn creating a pendulum effect which will be pronounced during the transit of 2017 to 2022.
---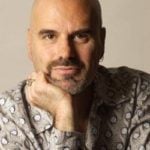 Dadhichi Toth, is one of Australia's most respected astrologers and face readers and is also the founder and CEO of www.astrology.com.au. Having 32 years practical experience in the field  with  more than 10,000 personal consultations to his credit — including celebrity, corporate and political clientele — Dadhichi is also an author having written the annual best selling Astrology Forecast series for Harlequin Mills and Boon for nine years. Dadhichi can be contacted at [email protected]
Stay tuned.
---
How compatible are you with your partner? Check out HERE!
To have a private consultation with Dadhichi Toth – our resident astrologer… CLICK HERE!