A General Overview of Cancer Horoscope for 2022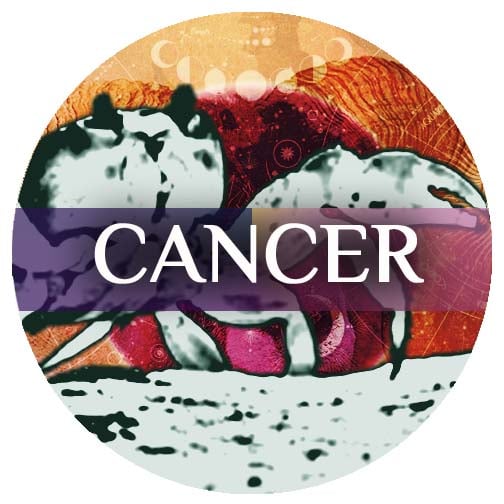 When a planetary traffic jam takes place, you can be pretty certain that the location in your horoscope is going to signify some important developments in that area of your life. As 2022 commences no less than four planets connect in your seventh house of relationships. The Sun, retrograde Venus, Pluto and Mercury occupy this important space and reflect your focus on love during the coming months.
Venus is an important part of friendship and lifelong aspirations. Being retrograde in your seventh house shows an important reappraisal of your relationships but in particular the level of friendship and camaraderie that needs to be obtained for you to feel satisfied in your relationships.
Much of what's going on in your relationships can be distilled all down to a shift in values. That shift in values and/or belief systems is perfectly reflected in the transit of Jupiter in your ninth house of higher mind, philosophy and general values.
On January 3 Jupiter makes a square aspect to the North node which represents the culture and prevailing trends in society. For some time, your North node has been moving through your 12th house of spiritual ideals. There's no doubt you've been reconsidering your position culturally and, in the world, generally.
You could feel at odds with the way others are thinking and feeling as you've now reached a new plateau in your life through your many different past experiences. You don't necessarily subscribe to what everyone believes just because they say so. Unfortunately, some of this thinking may have spilled over into your relationships. If there are religious or philosophical differences for example, that can be a difficult position to navigate.
Astrologer's Advice
You need to be patient and compassionate to find some common meeting ground.
Jupiter is a trine aspect to your Sun sign and relates to finance. It's a very lucky development. New opportunities open up and in particular your financial status improves as a result. The location of the Sun in your seventh house shows that you're more easily able to negotiate with others for mutually beneficial financial outcomes.
On April 13 Jupiter makes its conjunction with Neptune, again in your ninth house. Jupiter's transit in this area of your horoscope also has an impact on your belief systems. Your feelings will intensify. It's important to note, however, that Neptune is such an idealistic planet that you may lose your way.
Astrologer's Note
You can't assume those theoretical ideas will necessarily work in your practical everyday life. You need to test new philosophies and test which ones work and which ones don't. In particular, this must be juxtaposed against the relationships you're in so that you don't find yourself at opposite ends of the philosophical spectrum.
On May 11, Jupiter swiftly moves to your career sector indicating a very important new phase really in your life. The 10th house is related to your career, self-esteem and overall success. Perhaps the conjunction with Neptune causes you to dream big dreams and to go for those dreams. In any case your note the new phase of like commencing for you.
On May 1 the Sun enters its eclipse stage in your 11th house of friendships and lifelong goals and aspirations. This eclipse triggers a fresh approach and behaviour relating to your social activities and friends. There may be some new revelations as well which cause you to change your peer group and look further afield for friends.
Lunar Eclipse
Coincidentally, a lunar eclipse on May 16 in the sign of Scorpio signifies important developments in your fifth house of creativity, love and children. You may have been suppressing your feelings and creative expression in these areas of your life. Now with this eclipse, that energy may finally be released.
Astrologer's Advice
You need to find adequate outlets to direct those energies so that you can feel productive and fulfilled in yourself.
On July 29 Jupiter moves into its retrograde phase. This means you may not have completed your study or research into the value shift we've been talking about earlier in your forecast. The decisions you make in your work may be in for a dramatic change as well. Employers could change their opinion and this will lead to unsettling events happening within the company structure you work for. Jupiter moves back into the sign of Pisces on November 24 thereby activating your 10th house of career once again.
On November 24 Jupiter re-enters its direct phase and again kickstarts your career. It's bringing the year to a promising professional high point. Saturn, a slow-moving planet also makes an important square aspect to the cultural North node. That occurs on April 12 and this reiterates the square aspect of Jupiter which happened earlier in the year on the same point.
On June 5 Saturn and has its retrograde phase until October 23. This is a period of re-evaluation of your finances and also, to some extent the nature of your intimate relationships. The eighth house has to do with regeneration. For that regeneration to take place you must first die in some way or kill off elements of your personality or circumstances which been inhibiting your growth. Once that death takes place, rebirth is indeed possible but may not be easy. It's much like the caterpillar in its cocoon, finally getting ready to break out, one wing at a time before it can finally fly in full freedom.
Love and Romance for Cancer in 2022
What's happening in your love life, marriage and social arena?
Pluto, Mars, Saturn and Venus dominate romance, love and marital affairs. These planets have a very strong influence on your emotional affairs. Pluto continues to make its way through your seventh house of relationships. As mentioned in the overview of your coming year, the proximity to Mercury and retrograde Venus is significant as this area of your horoscope relates specifically to marital and long-term committed relationships.
Pluto is transformative, sometimes destructive by nature. Its connection to Mercury means that communication in 2022 is going to be deep and hopefully meaningful. With the right approach and open reciprocal communication, you can take your love life to a whole new level.
Astrologer's Advice
The retrograde motion of Venus and its connection to the Sun means you need to work on making more time for the one you love. Don't just take your relationship for granted.

Venus is the planet of friendship and being in the zone of marriage shows that there can indeed be an enhancement of your relationships. You must regain that level of friendship you had at the outset of the relationship.
Pluto enters a trine aspect to your karma point, the North node of February 15. The North node is currently transiting your 12th house of secrets and also compassionate activities. Could it be that transformation can only take place by setting aside your own needs for a while? It's about really putting yourself in your partner's shoes to see exactly what they need. There may be a stark contrast in your aspirations which can affect a relationship.
Pluto moves into its retrograde phase on April 30 indicating an intensification of your relationships. Pluto is passionate, transformative and destructive and its aspects are getting stronger. This will increase until October 9 when it goes direct again.
Astrologer's Advice
Throughout this phase, you must address those issues which have been undermining your relationships. You must confront those problems to make some meaningful sense of where you are and how you feel now.
The Moon and Mars are in exact conjunction as the year starts. You find them transiting your sixth house of service, work and health. This transit augments the Pluto trine North Node element just mentioned. You may have made an enemy of your partner. The sixth house relates to adversarial encounters. It's not great having Mars transiting this area but through that element but through selfless service, you can counteract these energies. It's about building your partner up as well as not being argumentative or reactive in your approach. You can smooth things over. This is best done early in the year while the Moon and Mars remain in this position.
Within the retrograde period of Pluto, Saturn, your principal planet of marriage also goes retrograde. That takes place on June 5 and continues longer than retrograde Pluto. It makes a direct turnaround on October 23. Saturn is in your eighth house of intimacy.
Astrologer's Note
Being constrictive indicates that you may indeed have to work through issues that have caused you to cool off emotionally, so to speak.
There may be aspects of your relationship that aren't up to par. Work, health (Mars in the sixth house as the year starts), social distractions etc may have been taking their toll on your relationship. With Saturn in retrograde motion, you can think about these things and work out solutions that can bring you and your partner closer together.
Of course, lockdowns across the planet and a sense of isolation or perhaps even too much closeness with the one you love may also be contributing factors to this distancing and an undermining of intimacy. Saturn is responsible for these things.
Remember:
Mars is your planet of love and romance but also has its natural and inherent aggressive quality.
For that reason, you must be careful after January 24 when it enters your seventh house which governs your closest relationships. It remains there up until March 6. It's probably not a good idea to vent your spleen which might lead to an all-out war.
In matters of intimacy, Mars enters your eighth house and makes its conjunction with Saturn on April 5. This is the classic frustration transit. Unless you're able to talk about your feelings there may be deepening passive aggression creeping into your love life. Don't let it get to that.
Mars functions well in the 11th house in its transit. It hits that position after July 5 and is an excellent omen for improvement in your relationships, not only of an intimate nature but socially as well. Let's not forget that there are also some important eclipses influencing the 11th house as well. That includes the solar eclipse on May 1 in the lunar eclipse on May 16. With Mars transiting this part of your horoscope you will be more dynamic and active in seeking friendship. You must be careful not to allow social distractions to erode any long-term relationship.
Venus is the natural planet of love but also signifies your friendship and lifelong desires. Its retrograde phase finishes on January 29. With it going direct, you can introduce that energy of love, attention and intimacy back into the picture.
Around February 18 Venus makes contact with Mars and this is the traditional astrological connection relating to passion love and excitement.
Astrologer's Advice
You should use this astrological power wisely and capitalise upon the positive energies to spice up your relationship.
The transit of Venus in your eighth house after March 6 is excellent. It softens the intimate chilliness mentioned previously. You have to be the hero in your relationship and step up to the plate and express love.
Remember:
love is a verb.
There may be some significant breakthroughs after the eclipse. When Venus enters your 11th house on May 29 some unusual and sudden experiences take place. With its conjunction of Uranus around May 29 things may grind to a halt and with the square aspect of Saturn again on June 16.
Romance intensifies with the trine aspect to Pluto on June 19. You should express those intense feelings of love to make your partner feel worthy.
Periods of the year which are positive for you are the transit of Venus through your Sun sign from 18th July until August 12. You feel good about yourself and will project that onto the world around you. Others will find you attractive at this time. If you are single, it's about time you put on your best outfit and mingled a little more with others.
The fifth house transit of Venus is also an excellent one. Showing off your emotional and physical strengths will make a positive impact on the people around you. It's fortunate for the start of new relationships as well. This takes place and continues up until November 16.
Career and Finance for Cancer in 2022

To find out what's happening professionally and financially in 2022 let's take a look at the transits of Mars and the Sun. These planets primarily give us an insight into what sorts of effects to expect in the coming months.
Confusion may paralyse your efforts by January 12 as Mars makes a square to Neptune. Mars commences the year in your sixth house of workplace activities. Any workplace agreements or relationships with co-workers may be under a cloud.
Astrologer's Advice
You have to work systematically to get to the truth.
Fortunately, the transit is short-lived and Mars moves to its exaltation sign of Capricorn on January 24.
Mars remains in your seventh house of partnerships and public relations until March 6 and up until the 15th, there may be a focus on banking, insurance, retirement plans and money tied up with third parties. It's best to avoid disputes even if you feel as if you've been hard done by. Mars, the combative planet is a hair-trigger character and so you'll be shooting from the hip.
By far one of the better periods of the year is the transit of Mars through your 10th house. Mars transits your 10th house after May 25.
Astrologer's Note
Furthermore, your career sector is Aries and Mars feels comfortable returning to his sign. You have the power to make things happen during this phase. You'll be dynamic and relentless in the pursuit of your objectives.

Mars continues its transit here until the first week of July.
Mars in this transit does so in the best area of your horoscope. There are some key dates that you need to watch out for. Mars will be squaring your Sun sign up until June 18 and indicates disputes with employers and other authority figures.
There are compliance issues or niggling problems with government departments as the Sun regulates governmental areas. It's important to not let your ego get on the road of your ambitions. You may have to eat humble pie for expediency and to bringing about peace.
Important Eclipses
While these transits are taking place mustn't forget the important eclipses in May as well. The solar eclipse on May 1 and the lunar eclipse on May 16. These eclipses point to the fact that from April 20 until May 21, the Sun will be transiting your 11th house.
Astrologer's Note
This is great for improving your connections, expanding your circle of influence and making new friends who can benefit you financially and professionally.
Later, Mars also transits the 11th house and gives you additional drive and good fortune. That happens from July 5 until August 20. Thereafter you find yourself languishing, lacking in energy and simply wanting to be alone. It's important to do that so. You'll regroup your energies and come back to the tasks at hand far more refreshed.
Mars transiting your 10th and 11th house will be in a square aspect to Pluto on July 2. You'll be dealing with underhanded people who try to take advantage of you.
Astrologer's Note
Power plays and politics are best sidestepped if you know what's good for you. There is a better understanding of your professional role and how that fits with the culture you've been be working in.
Mars makes its conjunction with the North Node on August 2. The explosive transit of Mars with Uranus on the same date shows that events are out of your control. You could lose control of your own emotions under these transits. Fortunately, by August 8, the square aspect to Saturn will bring that under control. This doesn't mean you still won't feel frustrated. Mars square Saturn certainly does make you feel frustrated but you're not as likely to be explosive verbally which is the worst-case scenario.
Before Mars leaves your 11th house expect a positive trine aspect to Pluto. This is constructive and gives you immense willpower to achieve your goals. You may also meet high-powered individuals who can assist you in achieving your ends. Power will be attractive to you during this phase.
The Sun's transit of your third house is important. The third house relates to contractual issues. This happens after August 23 and by August 27 there may be some acceleration in the process. The trine aspect to Rahu on September 8 and the unexpected but fortuitous trine aspect to Uranus on September 11 are positive indicators that the green light will be given.
Karma, Luck and Spiritual Insights for Cancer in 2022
Jupiter has edged into your ninth house of spiritual matters this year, expect this part of your life to become a dominant feature. Neptune, already transiting this area welcome the conjunction of Jupiter on April 13 and this provides a significant lift to your intuitive, spiritual and humanitarian aspirations.
Jupiter is an educational planet and the ninth house, as well as being spiritual relates to an opening up of your heart and mind. Many born under Cancer will be developing their intuitive and spiritual skills. To do this involves studying these topics in greater depth.
The ninth house and Jupiter being connected indicate an upswing in luck. Jupiter aspects your Sun sign, the third house of communication and short travels. It also influences your fifth house which relates to romance, children and creative endeavours. All of these areas of your life will be triggered positively.
The only drawback is Jupiter's influence on your Sun sign which may indicate a little too much fine living and excessive wining and dining.
Astrologer's Advice
You need to discipline yourself so you don't end up putting on too much weight.
The North node is currently transiting your 12th house. It's been there for around 18 months. This planet isn't a planet but an astronomical powerpoint. It relates to hidden and mysterious things. You've been contemplating spiritual matters for some time but as this planet moves into your 11th house on January 19, it will improve your luck, friendships and also earning potential. If you're in business, it's particularly lucky and increases profitability.
2022 Zodiac Yearly Horoscope Quicklinks:
Latest from Astrology.com.au
All the latest News and offers for your well-being