According to Chinese astrology, 2019 is going to be a year of balance. If 2018 was troublesome in any way for you, as many people say it was, we will all be looking forward to the equilibrium and harmony that the following 12 months should bring. The reason for this is apparently the Yin energy associated with this Chinese astrology sign of the Pig!
Overall, this year should be fortunate with luck coming in the form of money and good investments. Relationships are also under the umbrella of good fortune. Friendship and romance should also prosper. Although the general trend is lucky, there are some exceptions with impulsive investments causing loss for some of you. Read your following individual Chinese horoscope to find out more.
The Pig is the last animal in the Chinese zodiac, of which there are twelve. Because of this, it's considered generally fortunate for most of the signs.
---
Born in the year of the RAT  – 1936, 1948, 1960, 1972, 1984, 1996, 2008
---
2019 Overview
For those of you born under the sign of the rat, you couldn't ask for a more fortunate year than 2019, which is called the year of the Pig. According to Chinese astrologers, this coming year should bring you an abundance of happiness along with good fortune. Your success comes from your quick thinking and ingenious planning, all of which are part of your nature. Although this is a successful year you shouldn't overwork but rather, conduct yourself in a quiet and peaceful manner and while planning in an unobtrusive way. Remember, actions speak louder than words.
Overall you should remove the dead wood from your life and this includes relationships that now no longer serve you. Try to keep your emotional life on an even keel and don't put yourself in volatile situations which disturb your peace of mind and cause you to be at odds with others. If you follow these simple rules in 2019, your life will be full of happiness and material success.
Career and Finance
You can expect a busy year in 2019 and so your planning should be impeccable. You become more open and therefore will be more willing to try different things financially, which thereby result in greater success. Don't sweat the small stuff, however and keep your mind focused on those things that are going to give you the best return on your investment-both in terms of your time and money. This is the best approach if you want to achieve greater future security.
There is a danger of taking on a little too much in the coming 12 months. You need to organise your schedule and don't overestimate your abilities. You must certainly look for opportunities but if those opportunities arise in greater measure, the difficulty will be in discriminating which are the best ones to throw your efforts at. Making choices may cause you considerable stress.
Generally, your financial success will relate to the efforts you put towards your work. No pain, no gain. From June onwards, however, you can expect a turnaround with some better financial results at that time. Overall, you should be planning more effectively and while you're at it, put aside a little for a rainy day in case there are any unexpected emergencies.
Love and Romance
Relationships may be a little problematic for you in 2019 as the year of the Pig is never altogether favourable for those born under the sign of the Rat. There is an exception, however, and that is if you happen to be single. In this case, you are likely to be lucky in love and will find yourself in a reasonably good relationship.
Health and Well-Being
Overwork can be a problem for you this year. Although your mental and emotional health may be strong, physically you may not be up to par. Of course, monitoring your food and diet and taking adequate rest to balance a hectic exercise regime is imperative for good health.
Food mixtures will also be a problem for you. Even the healthiest foods require different digestive processes for optimal absorption of nutrients. In your case, you may be mixing foods that obstruct the assimilation of vitamin C and minerals so necessary for your well-being. It may be a good idea to take a look at this study which foods work best with others.
One of the best ways to ensure your health is on the mend is to rest, meditate and spend some quality time in a harmonious environment to counteract the stress of day-to-day life. You may need to give yourself some intermittent short holidays to counteract any of these problems.
Related Topics:
Get your own personalized Chinese Astrology Profile report. Click HERE!
SPECIAL OFFER: Get your 2019 Chinese New Year Special Package. Check it HERE!
---
Born in the year of the OX – 1937, 1949, 1961, 1973, 1985, 1997, 2009
---
2019 Overview
2019 should generally be a good year for the Ox. Most areas of your life will do well and because of that, you will definitely experience a more stable and calming influence. That should be heartening given that security and stability are the cornerstone of your basic character.
If you're looking to make money, you must keep your eyes and ears open for any opportunities that may arise. There should be sufficient windows of opportunity to chase down success in a big way. By the same token, you don't want to be impulsive. Make sure you have a good roadmap planned out and don't slacken off as far as your hard work is concerned. Your honesty and integrity will also have a hand to plan your success during the coming 12 months.
Although there may still be some ups and downs to be experienced. Generally, this is a year where your problems can be smoothed out, your family relationships improved and friends supportive of your efforts. If you need assistance, those people closest to you will be there to help you at the drop of a hat.
Career and Finance
Most of the year should be quite busy for the Ox in 2019. You have plenty of plans and projects on the go but need to ensure that you don't say yes to too many people, otherwise, you may not complete your tasks in the lifetime. Although you are prepared to work hard, you don't want to make a rod for your own back by promising more than you can deliver. Make sure you meet your deadlines.
It's a creative year for the Ox and if you are looking to enter into any business partnership, your creative edge will help advance your success. Financially you do well by investing but these should be calculated risks rather than shooting arrows into the deep blue sky.
There can be unexpected, even numerous sources of money available, but you shouldn't make this your primary objective. Pace yourself, and be prepared for some unexpected twists and turns in your professional life.
Love and romance
2019 should generally be positive romantically and emotionally. If you are born under the sign of the Ox or if you've experienced some ongoing problems in your love life, this is a period when these issues will be resolved and you can make amends with your spouse or lover.
As an Ox you can discover love this year if they are single. Your relationships move into a new upward trend at this time. You find yourself being more sensual and need tender loving care. This is why you would be fortunate to meet someone who is in keeping with your emotional and sexual needs. Don't be too quick off the mark to race into a relationship though, especially if that person demands you surrender your freedom and independence.
Health and well-being
For the most part, your health should be tiptop but expect a few odd periods where you may lose that bounce and joie de vivre. You shouldn't take your good health for granted. Just because you're experiencing a cycle of improved health doesn't mean you can go to extremes. Take extra precautions with your dietary habits. If you happen to be young, under no circumstances burn the candle at both ends. Yoga will be an excellent form of exercise, particularly because scratching your body will help create not only physical flexibility but mental flexibility as well.
Related Topics:
Get your own personalized Chinese Astrology Profile report. Click HERE!
SPECIAL OFFER: Get your 2019 Chinese New Year Special Package. Check it HERE!
---
Born in the Year of the DRAGON – 1940, 1952, 1964, 1976, 1988, 2000, 2012
---
2019 Overview
Generally, you are considered one of the luckiest signs of the Chinese zodiac but 2019 requires that you change course and reconsider your goals and objectives in life.
Fortunately, the year of the Pig brings considerable health and vitality for Dragon born people. You mustn't frivolously deplete this energy as it can be more useful if directed into the appropriate channels. By focusing your attention on the right sort of action and work your luck will be vouchsafed throughout the coming 12 months.
Although there aren't so many obstacles to your success, you're still advised to not take on too much. Focusing your attention on one thing at any given time will yield the best results. Flexibility is your keyword in 2019.
Career and finance
Just because you may not have a blockbuster year in 2019, doesn't mean it's not going to be a satisfactory one for you. The fact that you may not experience too many challenges or major business problems should be a welcome relief even if the next 12 months only turns out to be somewhat average.
You are afforded a great deal of flexibility and freedom in your work, even if you happen to be employed by someone else. Fortunately, you will find yourself in a position where your creative input is highly valued. This could be a departure from the past where you were stifled by not having enough freedom in that sense.
Office politics may bog you down so you are therefore advised to keep your nose to the grindstone and don't listen to what's being said behind other people's backs. Keep everyone as a friend and remain silent if you are asked to make choices especially if those choices denigrate others.
Your effective planning will ensure better finances. For those of you who happen to be entrepreneurs, your ideas will be received very well. Your investments or other acquisitions will also yield a good return in future. This doesn't mean you won't have the potential to lose money but that may only happen if you're inattentive to the details of contracts and negotiations. There may a period of heavy expenditure when you least expect it so be prepared beforehand.
Love and romance
It's a lucky year for love for those of you born under the year of the Dragon. If you've been looking for your soul mate, 2019 is a year when you may cross paths with that "special" person. Regardless of whether you're a man or a woman, you have the opportunity to choose from different types of people and will be very popular with the opposite sex.
If your current relationship has bogged down, the good news is that this year will be a perfect time for you to address those issues. It will help to get your love life back on track. If you've been unable to connect with your partner, the secret key is, of course, communication. You need to take precautions in speaking the truth as your loved one may be hypersensitive. If these are the sorts of problems you are experiencing with your significant you must be prepared to be more patient and understanding of their particular feelings and circumstances.
Health and well-being
You get a clean bill of health in 2019 during the year of the Pig if you are born a Dragon. There don't appear to be any major problems, illnesses or concerns for you physically. Even if something arises, you shouldn't worry too much that the condition will be serious. Remain confident and do your best to live a life that's well-balanced in every respect.
Although your physical health, based upon your lifestyle is on target for a good year, there are some mishaps or even accidents that may happen while you are in transit. Take care driving. Take care not to be impulsive and this also means having your schedule and timetable settled well in advance. You don't want to have to make changes that cause you to rush around as this is what may precipitate accidents.
Avoiding stress is a general piece of advice for any of the Chinese signs, however, in your case you should indeed practice meditation and introspection to keep your nerves healthy.
Related Topics:
Get your own personalized Chinese Astrology Profile report. Click HERE!
SPECIAL OFFER: Get your 2019 Chinese New Year Special Package. Check it HERE!
---
Born in the Year of the RABBIT – 1939, 1951, 1963, 1975, 1987, 1999, 2011
---
2019 Overview
2019 will not be an easy year for those born in the Rabbit tribe. You'll be severely tested this year but if you have a plan, and are prepared to stick to it, don't let the obstacles cause you to be dejected; you will come out successful this year. One of the secrets to your progress and success is to be consistent in your work practices. Any inconsistencies in your schedule will undermine your efforts.
Your finances will grow and this may be dependent upon the sort of business relationships, affiliates and clients you associate with. Remember, by association, you rise and fall as well. Overall, however, you will see fairly quick results. Don't let this give you a false sense of ego. Continue to stay the course. You must remain focused and keep your desires and ambitions realistic.
Career and money
Although you have some challenges in 2019, on balance, compared to previous years, this should be a rather good year when all is said and done.
You may be hasty in making decisions especially if you're looking to contractually obligate yourself to some path of action. For this reason, you should always take care to read the fine print of any contract and don't be afraid to ask others to clarify what they mean by their statements. You don't want to go into any sort of business partnership or new employment situation blindsided.
Many of you may start a new career or may even be thinking of an independent business. Good communication will be the key to all of these different avenues of potential. Your financial status will improve and during the first few months of the year you can expect a reasonably stable income. Later, towards the middle of 2019, expect some changes and this may be the result of additional bills, squaring off debts and reducing loans. Hopefully, you've put aside enough to act as a buffer against any of those unforeseen expenses. Try not to be extravagant as that may come back to haunt you down the track.
Love and romance
Relationships won't be a bed of roses in 2019 and if the status quo remains the same, without even any improvement, you should at least be thankful that you aren't experiencing any serious emotional problems.
Unfortunately, if you're single and looking for your knight in shining armour or that stunning damsel to come your way, this may not be the year for that. Some singles born under the sign of the Rabbit will have better luck this year. Perhaps making choices will be the larger part of the problem as you have ample opportunity to meet diverse people who are interesting and whom you consider to be good soulmate material. Choices!
Impulsiveness seems to be colouring your life in all areas but in terms of romantic affairs, it's all the more important for you to be patient by taking your time to analyse and judge the true character of those you meet before getting too deeply involved with them.
If you're an existing relationship it's important not to dredge up the past, hold grudges or nit-pick small details when you're having a disagreement over something. Stick to the point and be respectful, as you would expect your partner to be, even if you differ wholeheartedly. Gentleness and respect are important keywords to improve your relationships during 2019.
Health and well-being
It's likely you'll experience a reasonably good year for health and well-being. In your general lifestyle habits, you will be committed to improving yourself. Part of the success of your health this year has to do with the type of people you associate with. If you hang around with party animals, it's going to be easier to say yes to those all-night raging sessions which will obviously impact upon your health adversely.
Try to stay more low-key, do some regular exercise without pushing yourself too hard as that can also cause health problems if taken to the extremes. Fatty foods and excessive starch consumption may cause problems for your liver and this will consequently cause digestive issues.
The best advice is to be less impulsive and this of course applies to your health. This means making sure you take your time doing things and travelling from A to B. You want to avoid situations where accidents are likely.
Related Topics:
Get your own personalized Chinese Astrology Profile report. Click HERE!
SPECIAL OFFER: Get your 2019 Chinese New Year Special Package. Check it HERE!
---
Born in the year of the PIG – 1947, 1959, 1971, 1983, 1995, 2007, 2019
---
2019 overview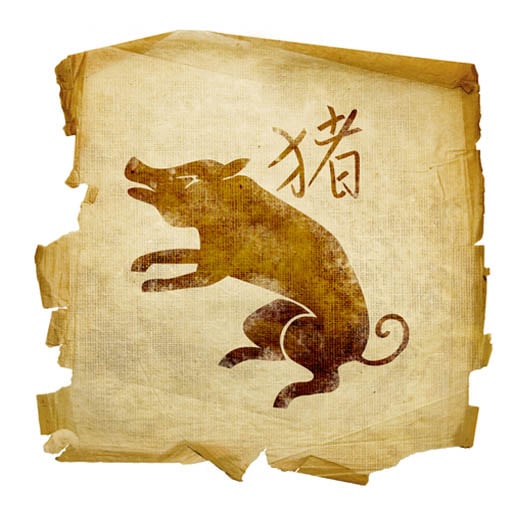 This is your year if you are born under the year of the Pig! You should expect both personal and professional satisfaction as the coming 12 months unfold. Essentially, however, if you wish to develop things even more, the key to this is w
orking on your personality and communication style in all of your relationships. This will ensure greater headway, especially at work. Another opportunity for improvement comes through developing your skill sets and this may mean embarking upon new courses of study.
Even though this is a great year, you must guard against reaction in your relationships. You may be overly emotional during this period of your life and if you are too demanding, you may fail to see that you may perhaps be the one creating all of these problems for yourself. Be tenacious and work through your problems systematically for an overall improvement.
Career and finance
You may consider the coming 12 months being somewhat lacklustre especially if you are expecting great results in success. Sometimes, as will be the case of 2019, it's more of a bridging year. By gathering your energies, improving your skills and focusing on how you can improve yourself, you better your chances of luck in future. In other words, this could be a year of hard work but if you're able to sidestep personal conflicts at work you will indeed make great strides even though you don't appear to be achieving too much.
Time is essential to your success and its use or misuse is going to be the determinant of how successful you are this year. He good use of your time would be to reappraise what your experience, knowledge base and skills are, and slowly develop them so that you can rise up the ladder of success.
In as much as your money and investments are concerned, it's probably not a great time to venture into the stock market, or other high-risk investments, especially if you're a little short of cash at the moment. It's also inadvisable to jump ship in terms of your work. Even if you're not particularly happy with where you are, it's better to stay where you are until you have a clear cut plan for where better alternatives lie.
Part of saving more money isn't necessarily about earning more but rather cutting back on superfluous expenses. Your overheads may be eating you alive and if you can tighten your belt, streamline your budget and save a little bit of cash now, that in itself will be enough to bring you out the other end of 2019 unscathed financially.
Love and romance
Not much is likely to happen in 2019 for those born under the sign of the pig. Nevertheless, if you're in a relationship or married, there's a chance for you to slowly improve the calibre of existing relationships. That means setting aside more time and creating moments of love, romance and intimacy. You can't expect love to grow if you don't make any sort of effort. It's like watering plants, and the water of relationships is communication.
As with all relationships, continue to improve your communication skills which are particularly important. This doesn't mean talking on ad nauseam, but you do need to show that you are confident in the relationship and also contended in this will reflect back to your partner and inspire them to be just as confident and excited about the relationship too. Invite the one you love to more social engagements, introduce them to your circle of friends and show them that you are proud of them. This will go a long way to ensuring that your relationship is greatly improved in 2019.
Health and well-being
There shouldn't be too many significant changes in your health this year, for better or for worse. As long as you maintain the lifestyle regime you have been to date, then you can look forward to a reasonably good year in 2019. If you've been remiss in getting a regular health checkup, it might be a good idea to look at that, if only to give you peace of mind, especially if you're worried about the odd twitch or niggling pain. These are more than likely nothing but it's best to alleviate any of your doubts.
Although the year starts out with an abundance of energy, your working schedule might slowly start to erode your power and zest for life. This means taking on fewer commitments professionally and spending a little more time giving yourself some well-needed attention.
Related Topics:
Get your own personalized Chinese Astrology Profile report. Click HERE!
SPECIAL OFFER: Get your 2019 Chinese New Year Special Package. Check it HERE!
---
Born in the Year of the ROOSTER – 1945, 1957, 1969, 1981, 1993, 2005, 2017
---
2019 Overview
For the Rooster this year is a continuation of the past couple of years. To maintain the momentum you mustn't change what you're doing in midstream as you'll lose all of that energy and may have to start all over again. Tenacity, persistence and hard work bring good results for you.
If you're looking to improve your social and professional success, you need to make greater effort to widen your circle of social influence. Networking with the right people can help give you a leg up if you're stuck at this point in your life. Remember, your success this year has more to do with selling yourself rather than any product or belief system. The quality of your relationships is also going to be very important if success is what you seek.
The other important thing for 2019 is to not alienate those that closest to you. You may be unaware of the fact that some of your greatest assets lay in your relationships themselves. If you're married, you may find that some of the suggestions and support of your loved ones will be instrumental in developing breakthroughs which will help you surmount any barriers on your path.
Career and finance
You may have been bored or feeling dejected in the past year or so but this year shows a resurgence of interest and energy for your career and personal development. Don't let up. You need to increase the focus you have for your work even if there are obstacles that you see in the way. Being positive and looking for solutions rather than creating problems is the secret of your success now.
Teamwork is also even more important throughout the coming months. You need to reconnect with co-workers and employers and check whether or not their estimation of you has changed. If something has been bothering them about you, how else will you know this if you don't ask them? How are you going to change and improve yourself in their eyes?
It's fortunate that you may have been saving systematically over the past few years and this will help you come through whatever difficult expenses come your way in 2019. You mustn't let your guard down. Greater communication with your accountant and those who hold the purse strings in your family will help you better manage your finances and remove worry from your mind.
Love and romance
It's a big year for those born under the year of the Rooster. You can expect several significant developments in your love life and those shifts will, in fact, be favourable for you and your partner.
Generally, remaining contented with your emotional and domestic situation is what will help bolster your relationship, particularly if you've been a little disenchanted of late. You'll find that keeping the peace and not nitpicking the finer detail of what your partner does, will also be appreciated and will ultimately strengthen the emotional ties with one another.
You want more reciprocation in your love life and the quickest way to do that is to be the change you want to see in your partner. Communicating your needs is also something that may have fallen by the wayside. You must understand that those you love can't always be expected to read your mind. Why not open up and share your feelings with them so that they know exactly what you need.
Your friends and family will generally be more supportive of you this year and if you happen to be single, there will be opportunities, particularly towards the end of the year, to find someone who resonates well with your emotional and spiritual self.
Health and well-being
This year there will be some ups and downs as far as your health is concerned. If you've had some previous health problem, it's important to follow through with your health regime, herbal and medicinal program, otherwise you may see these problems returning or not really being permanently secured. Generally, however, there doesn't appear to be too many problems for those born under the sign of the Rooster. Anticipate some small minor health issues which, if tended to immediately won't be of too much concern.
If your moods are swinging from one end of the emotional spectrum to the other, it's not a bad idea to keep a food diary and check which foods you are intolerant to. You'll be surprised at the direct link between specific foods and mood swings.
There may be long-standing habits in your lifestyle that have undermined your health and this is a great year for you to identify and eliminate them. This will go a long way to not only curtailing any serious health problems but also injecting you with a dose of high-energy positivity throughout the coming 12 months.
Related Topics:
Get your own personalized Chinese Astrology Profile report. Click HERE!
SPECIAL OFFER: Get your 2019 Chinese New Year Special Package. Check it HERE!
---
Born in the Year of the TIGER – 1938, 1950, 1962, 1974, 1986, 1998, 2010
---
2019 overview
This is a dynamic year for tiger born natives and you could expect a great deal of energy physically and mentally. There's nothing much that will hold you back as your physical levels are at an all-time high. You have a clear objective in mind and feel totally focused on achieving that end now. The only problem is that you may exclude others and could be so absorbed in trying to attain your goals that you forget about your family and friends. Just remember, no man or woman is an island unto themselves and you should be inclusive by inviting others to share in your successes.
This is one of the most productive years for you. Even though there may be the odd tough time ahead, you'll be able to look back and say with pride that you achieved what you set out to do. You may be irritable with people who obstruct, distract and try to drag you down with negativity. Rather than engaging them in battle, wouldn't you agree that it's best to sidestep them altogether?
Don't associate with people who are going to challenge you and make you feel less than positive in your efforts.
Career and finance
This is one of the best years for your financial and professional life. Things seem to be working in consonance with your desires and this is because you've taken the time to improve your skills, connect with the right people and clearly set yourself some workable goals.
Hard work seems to be the cornerstone of why you'll be successful in the coming 12 months. Over and above this, your intellectual curiosity has grown and you may be interested in studying or even taking on some new course to lift your technical knowledge and practical abilities to a new level.
Promotions are likely with your communication being refined and quite convincing. Although you may be successful in acquiring a new position or making a clean break for a better job elsewhere, you must still take care with your finances. This is particularly so if you're engaged in negotiations where you require investment capital or looking for some business partnership. You will find that people aren't as honest as you would at first believe them to be. Don't believe everything you see and hear. Don't accept everyone at face value.
Love and romance
If you happen to be single, 2019 should be a more romantic and sexual year for you. You will meet several people who tickle your fancy and could be considered worthy of a relationship with you.
You may, however, also find that you are presented too many choices and will be indecisive. At the end of the day, you may have set the benchmark so high that no one actually meets the criteria you've set. You could try being a little more realistic. Don't force a relationship when that natural resonance isn't there. Be patient until the right person comes along. You will know from that inner sense who is right and who isn't.
One other important point for 2019 is that if you wish to be successful in love, you must focus on that relationship which is more important than any other: the relationship with yourself. Focus more on yourself; create satisfaction within your own being before you go looking for satisfaction elsewhere. Remember, short-term encounters aren't going to actually fulfil you. You need to look at the long-term bigger picture, make sure that you feel comfortable within yourself and this will give you the opportunity to impress the right person when they eventually come along.
Health and well-being
It may take some time for you to recover energy levels that you feel comfortable with. Slowly as the year progresses you start to find that even the slightest changes in diet and lifestyle give you big lifts in well-being.
This year may see you confronting some forks in the road of life. This means big decisions and part of that may have to do with sticking to your resolutions especially if they relate to exercise, improving your physical health and also changing the sorts of foods you eat. As you are aware, diet can and does impact your health significantly.
If you're prone to feeling blue or even having some depressive states of mind, remember, you need to keep active and do something creative to give you an outlet for these negative feelings. Get more sunlight as well. This is known to help. By the same token, you mustn't exert yourself too much by pushing yourself beyond your limits. This may indeed create the opposite situation and undermine your health.
If you're taking any sort of medication or herbal remedy, do so with an attitude of testing first to see whether or not your body reacts unfavourably. There may be an allergic reaction to certain medications, even to some of the most innocuous foods. Trust your body to give you the correct signals. It will let you know what the appropriate course of action is.
Related Topics:
Get your own personalized Chinese Astrology Profile report. Click HERE!
SPECIAL OFFER: Get your 2019 Chinese New Year Special Package. Check it HERE!
---
Born in the Year of the GOAT – 1943, 1955, 1967, 1979, 1991, 2003, 2015
---
2019 Overview
Those born under the sign of the Goat can expect 2019 to be a phenomenal year. Successes of all sorts will be your crowning glory. Much of that success can be attributed to the greater independence you've acquired over the past few years. Being free to conduct yourself independently has helped.
If there have been any obstructions in achieving your goals, the door is open in 2019 and you'll find yourself resolving problems and finally acquiring what is rightfully yours.
You are healthy and have a great deal of stamina this year and will be surprised at how much you can achieve both in your personal and professional life.
Career and finance
You are happy putting in the effort needed to achieve greater success during this next coming 12 months. Because you've exhibited so much determination, it's an opportunity for you to put your best foot forward and make the right sort of impression on those who count. You have the ability to focus on any subject and can outperform your colleagues and co-workers with the result that your superiors will take note of your good work. You are competitive and will win against your rivals.
Although you are independent, working in concert with others will augment your ability to achieve more. You also have a greater degree of creativity which others are attracted to and so, they will be more than happy to support you in your efforts.
Don't be wasteful with your money as there may be unexpected costs incurred during the year. If you haven't yet put together a budget, it's a good time to do so. The secret of success financially, this year, is to simply keep all of your expenses and income well-balanced.
Love and romance
2019 should be a pivotal year for your emotional life and relationships, especially personal ones. If you've been waiting to meet the person of your dreams, this may be the turning point when you may encounter that very important soulmate.
If you're currently in a relationship, you have the opportunity to deepen your love to do something special with each other. Give yourself adequate time to explore what life has to offer. This will draw you much closer together.
The early part of the year is particularly important for strengthening the bonds of love. Don't chase too many other independent activities if you're serious about strengthening your love ties. Set aside even just a little time to show just how much your partner means to you. Support your spouse or lover's aspirations and they will reciprocate many times over.
This is a passionate year and you should, therefore, allocate time for romance as the more you give the more you'll receive. As the Beatles song once declared "In the end, the love you take is equal to the love you make.
Health and well-being
You keep great health in 2019 and for this single reason, you can look forward to other areas of your life being successful. If you're not worrying too much about your health and well-being, it means that you have the time and vitality to attend to other matters with greater focus.
Both your mind and your body remain fit in 2019 and this therefore suggests that you probably don't have to worry too much about any sort of medical procedures, doctors' visits or tests. This in turn means saving money in the long run. If anything, the only downside to help this year is if you lose control of your emotions and overreact to trifling matters. Keep a calm mind and sidestep any trivial comments or insults.
Related Topics:
Get your own personalized Chinese Astrology Profile report. Click HERE!
SPECIAL OFFER: Get your 2019 Chinese New Year Special Package. Check it HERE!
---
Born in the Year of the MONKEY – 1944, 1956, 1968, 1980, 1992, 2004, 2016
---
2019 Overview
You pretty much have free reign throughout 2019 to achieve what you want on your own terms. Both your personal and professional life will reflect your independence and ability to carve your own path. Consequently, 2019 is a fearless year and will be influenced by your positive energy. The only limitations are those you are going to set for yourself.
This is a karmic year and, if in the past, you've done good deeds, supported others and done your best to help your friends and relatives, your good karma will come back and bucket loads. Don't be worried if there are a few delays in achieving your goals. Things will come through when they are meant to and your perseverance will pay off in the end.
Because you are extremely confident in yourself, you are able to set your standards much higher and intensify your goal setting to a greater level than previously. Your confidence will know no bounds. By the same token, try to avoid being arrogant especially if you achieve some big wins. Remember, pride precedes a fall.
Career and finance
2019 is an excellent year for your professional and financial life. Your growth in both these areas should be quite significant but don't forget that that's not going to happen if you don't continue your hard work and remain consistent in your efforts. This will indeed be a busy year but you'll be well rewarded by sticking to the path.
You may need the help of some of your co-workers or business partners. You might think that you're capable of doing everything yourself or perhaps that you don't want to bother them with your problems. Actually, these people will be more than happy to help you with this, and in a way, will be seen by them as a token of respect.
Your living standard and lifestyle will take off this year and if you want to move in higher social circles, this is the year when that can happen. Remember, don't overexert or overestimate your abilities. Know when you've had enough or when you're out of your depth. Accept help and that will make your path so much easier in 2019.
Love and romance
Your love life may be challenged this year and this is because you may aren't clear on what your partner or lover expects of you. You mustn't leave yourself guessing nor should you do that to your partner. Clarify everything between each other so that there is no ambiguity on important issues. Explain what you want and demand that your partner explain what they need as well. There may be some upheavals in this process but at least you'll clear the air and you'll both be on the same page.
Throughout some periods of the year, you will prefer to spend time alone and work through your own personal issues. This is a great idea as you won't be distracted by other people and can get to the heart of any problem easily. Once you've done that, you can share even greater feelings and insights with the one you love. Absence makes the heart grow fonder.
A cautionary note is one which relates to mixing business with pleasure. You mustn't mingle your romantic affections with those you work with. This will most certainly create complications for you.
Health and well-being
If you have any minor physical problems, it's best to address them earlier in the year. You don't want these issues to be left untreated as they might escalate into more serious problem. In particular, try to reduce the inflammation levels in your body. If you're experiencing repetitive bouts of colds, coughs et cetera, take this to be a signal that you need to change your lifestyle and how you approach your work and relationships.
Overexertion and risk-taking only create more stress and anxiety. If you become a workaholic, that itself is a health problem and must be addressed. The most obvious advice which is also given to many of the other Chinese zodiac signs in 2019, is to balance your work and ambitions with adequate personal space and "me-time".
Better health can be expected if you eat smaller meals, do so in a relaxed environment and try incorporating a greater amount of vegetables and fruits in your diet. Juicing and intermittent fasts also help regain health so you might like to try that in the coming months.
Related Topics:
Get your own personalized Chinese Astrology Profile report. Click HERE!
SPECIAL OFFER: Get your 2019 Chinese New Year Special Package. Check it HERE!
---
Born in the Year of the HORSE – 1942, 1954,1966, 1978, 1990, 2002, 2014
---
2019 Overview
2019 is a year of stable and steady increase in your good fortune. As the year progresses you'll realise greater and greater opportunities for expansion and success. As a result of this, your self-confidence also grows stronger as the year progresses.
For those of you wanting to gain name and fame, this is a year when you can do so, and easily too. The secret of this, however, is to remember that you're only as good as your last hit. You need to continually upgrade your abilities and creative strengths so that you continue to produce new and exciting work.
2019 might be regarded as a transformative period for you and one in which your relationships, profession and even your own self-image may be in for a radical overhaul. Happily, you won't experience too many obstacles and so that will be easier for you than most.
Career and finance
You are really well supported by the people you work and live with and you should be the first to acknowledge this and reciprocate with appreciation and like deeds. One of the more important elements of your success will rest on the power of your speech. You have the ability to write, speak and persuade others through your speaking power. Communication will be your strong point.
The trend for finance and money looks good in the coming twelve months and consequently, look forward to good things occurring in your professional arena. Not only this, but if you happen to be an investor and wish to make a good return on your money, 2019 proves favourable. Although you should be careful to stay away from risky investments, it might not hurt you to put aside just a little and take a punt on a long shot. It's one of those years which could return a greater than expected windfall due to you being lucky.
There's an old saying and it goes something like "look after the cents and the dollars will take care of themselves". In short, this can be applied to many areas of your life. Doing things that seem small or insignificant can actually add up to bigger and better things. Don't discard things which appear trivial. Everything has its place in the larger scheme of things.
Overall, your finances should be good with several streams of income being available. You may be able to pay off your debts, find better interest-bearing deposits for your savings and plan more effectively for a rewarding financial future.
Love and romance
As mentioned earlier, 2019 is a year in which big changes can take place. With those changes comes some thoroughly entertaining and enjoyable times. Your social life should take off with opportunities for love affairs in abundance. If you happened already be in a relationship, those relationships start to thrive and fulfil you at every level of your being.
Having said that, you mustn't sit back and expect the universe to roll out the red carpet and deliver your perfect partner without any effort on your part. Look your best, showcase your best character traits and don't be socially lazy. When it comes to communicating, be diplomatic and share your thoughts and opinions but do so in a respectful manner. These are the sorts of things that will win you brownie points and attract a great partner.
An interesting aspect of your love life this year is that you may be in the midst of love and may not even be aware of it. If you've been friends with someone sometime, you may be surprised to find that they have stronger feelings for you than you imagined. You may be able to develop a new relationship from a strong basis of friendship.
Health and well-being
Don't be worried if you have some health problems in the early part of the year as this may be nothing serious. Just a little careful attention to your health and well-being through adequate lifestyle changes will bring everything back into balance.
You may be tempted to be a little lazy this year and so taking a day off from the gym might end up turning into taking three or four days off and before you know it. That's how you start to put on those extra pounds. Excessive weight may be a problem for you especially if you're in middle age. Remember, diabetes, blood pressure and heart disease, even cancer, have their roots in poor dietary and lifestyle habits. By paying a little more attention to these aspects of your life and maintaining a disciplinary approach you easily bypass these problems and continue throughout 2019 with an excellent bill of health.
Related Topics:
Get your own personalized Chinese Astrology Profile report. Click HERE!
SPECIAL OFFER: Get your 2019 Chinese New Year Special Package. Check it HERE!
---
Born in the Year of the SNAKE – 1941, 1953, 1965, 1977, 1989, 2001, 2013
---
2019 Overview
This is a year of peace and tranquillity for the Snake but this is only going to be so if you vow to not to get drawn into argumentative debates with others. You have a strong mind and want to impress your opinion on others. You may win the battle but ultimately good lose the war. It's important to be respectful even if you have a difference of opinion with others.
Socially your life will achieve new heights and fortunately, you find yourself with extra time and resources on your hands to pursue your social life, hobbies and other creative interests. This will also help to keep your head level and to deepen your spiritual awareness and emotional fulfilment generally.
For some born under the sign of the Snake, 2019 is going to bring many rewards and the fulfilment of some long-cherished desires.
Career and money
In your work, there may be a sluggish period throughout 2019. Employers and co-workers may seem more obstructive and dissatisfied with your performance than usual. This may cause you to consider leaving as an easy option. It would be a shame to bail out before you see the fruits of your hard efforts. Don't lose heart. Cast aside any negativity as this is only a temporary obstacle.
This is a year when you must have faith in your own ideas and creative concepts. Believe it or not, sharing these with your employers will win their respect and more than likely fast track you to a better position within your organisation.
If you find yourself in financial difficulties, it may be time to seek the appropriate advice from financial planners, accountants and your bank manager. Don't let these problems rest wholly and solely on your own shoulders. By seeking expert advice and you'll be surprised at how easy it is to solve these problems when you have an alliance with experts.
Although the year starts off with some difficulties financially, things will smooth out as the year progresses. If you see some additional funds coming in don't be impulsive and spend it all in one fell swoop. Try to save a little as this will compound over time and give you the financial buffer you need in any turbulent financial times ahead.
Love and romance
Being impulsive in love may cause you to put others on a pedestal. This will set you up for a fall. You should be pragmatic and take people for who they are. Give your relationships a little bit of time to percolate, especially if you've just entered into a new and highly passionate affair.
Learn from your past experiences. If you're moving into a new relationship and avoiding looking at your past errors, you may be doomed to make the same ones. By thinking carefully along these lines you'll sidestep these same problems in your relationships.
This could be a year in which there are many new relationships formed, and this may even include one night stands and casual affairs which, for the time being, may seem exciting but will leave you empty in the long run.
Some of your friendships may have resulted in a stale sort of feeling. A few of your old friends may not be growing spiritually at the same pace as you. This year may be the appropriate time to weigh up the pros and cons of all of your relationships. Consider which of those relationships are going to serve you best moving forward.
Health and well-being
You may be avoiding taking those all-important yearly checkups and tests. Some of your health fears may be unfounded but, by the same token, if you avoid your body signals, you may be setting yourself up for more complicated health issues in future. Do the right thing and get that checkup. At least you will set your mind at ease.
Several areas which may be problematic include increasing stress levels. Also, travelling to environments which may undermine your health through infectious diseases or even a simple as extreme weather changes need to be considered. Try to be a step ahead of this by taking the appropriate inoculations. Keeping warm when weather changes are expected also minimise health risks.
Part of the problem with stress is in suppressing your feelings and in particular, anger. If you've developed a passive-aggressive stand in some relationship or workplace scenario, it is imperative for you to share those feelings and find some way of decompressing that. Holding onto a grudge or bad feelings for lengthy periods is one of the worst things you can do and this will definitely undermine your health.
Related Topics:
Get your own personalized Chinese Astrology Profile report. Click HERE!
SPECIAL OFFER: Get your 2019 Chinese New Year Special Package. Check it HERE!
---
Born in the year of the DOG – 1946, 1958, 1970, 1982, 1994, 2006, 2018
---
2019 Overview
2019 can be extraordinarily successful for those born under the sign of the Dog. Apart from your work and personal life, you've had a few things on your bucket list that haven't come to fruition. 2019 is the year to make your dreams a reality. Trust your intuition if an opportunity arises as big breaks are few and far between. If you're listening to your mind rather than your heart, or perhaps even your friends, you may be steered in the wrong direction.
Ambition is the big word for 2019 if you are a Dog. This keyword is definitely the gateway to the success you've been dreaming of. Try to attempt the difficult things earlier in the year when you have an abundance of energy. Your stamina will carry across the line and, if the second half of the year is less dynamic, at least you've created some momentum for yourself.
Career and finance
Your professional life is on target in 2019 and as a result don't be surprised to achieve your goals earlier than expected. You're happy to work hard and in fact, will thrive in an environment that challenges you to do your best. Consequently, whatever work you do will be rewarded both in terms of recognition and a financial upswing.
The secret to ensuring your success in 2019 is to not procrastinate. You know what you want but indecision may cripple you. Earlier, it was mentioned you should rely on your intuition to move forward in 2019. Your professional arena is one such area that requires you to apply this. Time is also of the essence and you must have no fear of putting a foot wrong. Even if you make an error it will be easily rectified in due course.
Another great success secret for you throughout 2019 is to learn the art of delegation. You have a great deal of support around you but if you're micromanaging everything. You're wasting your valuable human resource doing everything yourself. Allocate menial tasks to those around you and you'll find your load significantly lightened.
Love and romance
Fear may paralyse your love life as well this year. If you have an idea of what you want, a person whom you have your eye on or something you want to do within an existing relationship, you mustn't hold back from acting on this. If you happen to be in a relationship, this is a year when your amorous feelings will increase even if you've had a period where mutual affection has waned.
Take advantage of this thoroughly beautiful emergence of love again and relive the early days.
To meet someone new, if you are single, you must be prepared to expand your circle of influence and also put yourself in what were previously uncomfortable situations or different cultural environments. This year favours you trying something different and exposing yourself to new types of people.
For those who are already married and interested in having children, 2019, the year of the Pig, is an excellent time to consider creating a family. It's best to do this either earlier or later in the year as the middle of the year could be obstructive and problematic in other ways.
To improve your relationship generally, give some freedom to your partner and don't focus sweat the small stuff. Let some of your usual niggles slide. Create more peace.
Health and well-being
It's important to consider others who are less healthy and privileged than you. This will develop an attitude of gratitude and appreciation for your life. There are aspects of your thinking throughout this year that may be the main underlying problem of any health issues you experience. For that reason, you should try to count your blessings and foster an inner feeling of peace and well-being. Any negative emotions such as jealousy, anger, fear or shame may be subliminally undermining your health.
If you're suffering from these sorts of problems, you need to take time off, look towards your spiritual and inner well-being by going on a retreat, visit nature more regularly and really yourself back into harmony with your environment and the people you love and care for.
Generally, 2019 will be a great year for your health as long as you can bring these other factors under your control. This requires discipline.
Related Topics:
Get your own personalized Chinese Astrology Profile report. Click HERE!
---
Dadhichi Toth is a revisionary astrologer who works with both Eastern and Western systems of astrology. He is the founder and CEO of astrology.com.au and previous author of the best-selling astrology series of books for Harlequin Mills and Boon for 9 years.
He can be contacted on [email protected]
To book a personal astrology consultation click HERE