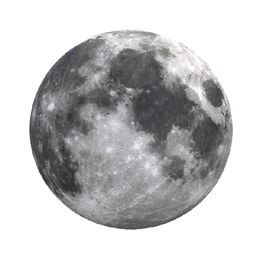 When the Moon transits your horoscope the likely effects that can be expected are numerous and depend on the type of relationship the Sun is having with other planets. There are the hard as well as soft aspects and also the conjunction which is sometimes considered a mixture of good and not so good. These aspects determine the effects that will be experienced in your life.
When looking at the Moon's square aspect to other planets you can include to some extent, the opposition, semi-square, quincunx, sesquiquadrate and other lesser-known hard aspects to arrive at a similar conclusion.
Moon Transits and Conjunction Aspects
When Moon conjuncts Sun, it will refresh you today where your feelings can come to the surface. It will be a harmonious relationship with others especially women during this transit. In terms of practical application, make use of this transit to apply subtle changes in your social life.
When Moon conjuncts its own natal position be prepared since it's the beginning of a major emotional cycle. It's critical to have clear thinking today since your emotions may surface. There is a high likelihood that you'll be given the chance to step into the limelight during this transit.
When Moon conjuncts Mercury it bestows a tendency for moodiness, which may astonish rational and practical thought. Make sure that you will not allow petty issues to overwhelm you. Make use of this day to just take a step back and reflect.
As Moon conjuncts Venus, expect to have a heightened artistic inspiration and expect this to manifest either in creative work or the urge to experience the beauty of nature. Your positive outlook today will also enhance your social life and could lead to an intensified romance.
When Moon conjuncts Mars, you have a tendency to be more impulsive today and you might start doing things you normally wouldn't. You might also feel irritated but don't worry since it will pass relatively soon.
When Moon conjuncts Jupiter, expect to potentially meet your future love life that is both cheerful and generous. It is during this transit were establishing a relationship (especially with women) is recommended. Good fortune is also on the line during this time.
When Moon conjuncts Saturn, you will feel a certain level of depression that will stop you from expressing yourself and encourage you to be more disappointed. It is possible to experience anxious relations with a woman (regardless of your gender). Set aside feelings of guilt and pessimism because it is both unhealthy for you and the people around you.
As Moon conjuncts Uranus, it will make you impulsive and restless. It is advisable to avoid important decisions during this transit which could only last for a few hours. Having harsh decision at this stage will just cause misfortune and you will find it difficult to concentrate as well during this transit.
When the Moon conjuncts Neptune, you will be more sensitive towards feelings of others and it will be easier for you to listen to someone else's concern today. You are very tranquil today and have a tendency to daydream and escape reality through art or cinema. This can be constructive actually if properly channelled.
When Moon conjuncts Pluto, it could lead to intense emotion that could lead to self-analysis or deep emotional experiences in romance that can either be good or bad. It is recommended to remain objective today.
Moon Transits and Hard Aspects (square, opposition, semi-square, quincunx, sesquiquadrate, and more)
When the Moon squares the Sun, expect to have personal challenges or conflict at home. This means that this transit might lead to a serious confrontation between you and your loved ones.
With Moon squaring Moon, you might experience petty problems between you and a friend. Since this transit doesn't last long you could just sidestep or brush it off.
When the Moon squares Mercury this is an ideal time to engage in serious conversations with your loved ones. If you are going thru something, this is also the right time to confide with your friends.
When the Moon squares Venus, this would increase your desire to be spend quality time with your friends. It will give you a sense of fulfilment if you engage in any social activity during this transit.
With Moon squaring Mars, this is the best time to spend quality time alone. There might be a feeling of loneliness but it's also perfect timing to reflect on your full potentials.
When the Moon squares Jupiter, a sense of helping others will creep in your mind subconsciously. You will feel a sense of fulfilment if you volunteer to help out a friend on what he or she is going thru.
When the Moon squares Saturn, you may feel that you are disconnected from your friends and loved ones. It can be overwhelming if you have no one to talk to absorb or listen to your problems. Reflecting on your own could help you come up with out of the box solutions.
When the Moon squares Uranus, it might make you feel uncomfortable or out of ease. This could lead to being experimental on how you'll spend time with friends. It's ok to have fun but decide wisely so you won't get into trouble.
Moon squaring Neptune is a little shaky since you may lose touch with friends and family. Despite this confusing transit make sure not to get caught up with daydreaming since your friends might reach out to you for comfort or attention.
When the Moon squares Pluto, you will feel refreshed thus causing a certain level of excitement. Taking advantage of using this time for creative self-improvement and what you can achieve is limitless.
Moon Transits and Soft Aspects (sextile, trine etc)
When Moon sextiles Sun, you will feel relaxed and at ease with yourself today. Make it a priority to spend time with your friends during this transit. It is also expected that the likelihood of meeting an opposite sex is heightened at this stage.
When Moon sextiles Moon it is beneficial to keep yourself surrounded with friends and relatives. Revealing or sharing your true feelings to someone who you truly care about will be helpful on this transit. Releasing your emotions instead of bottling it up inside you is critical at this stage.
As the Moon sextiles Mercury, you'll be more inclined to celebrate and have a great time with friends and family. Keeping in touch with long-distance acquaintance and engaging in social events is also a great idea during this transit.
When Moon sextiles Venus expect a harmonious relationship at home and an increased desire to be with your friends' company. It is highly recommended to have either a party or reunion since it will definitely be enjoyable during this transit.
When Moon sextiles Mars, you will feel a boost on your self-confidence. Leading a project will be a good idea at this stage especially if you will seek the help of your associates or colleagues. It is also advisable to open up to your loved ones during this transit.
As the Moon sextiles Jupiter it will give you sense togetherness with close friends and relatives. Spending time with your long-term childhood friends will be beneficial at this stage. However, this is not the best time to gain new ones.
While the Moon sextiles Saturn, you'll have a tighter control over your feelings. Even if you feel love for someone you may not wish to communicate it verbally or demonstrate the fact. You are more dutiful, conscientious and attentive to detail during this cycle.
When Moon sextiles Uranus it will drive you to seek out new friends and activities. Make use of this time to try something totally different from what you are used to. You may reach out also to your close friends to help release of excess energy.
When Moon sextiles Neptune, it will make you more caring towards others. At this point, friends an d family may turn to you for help where sympathy will come into play. In addition, you will be instrumental to help someone today without you being aware of it at all.
As the Moon sextiles Pluto, it will bring minimal changes to your relationship with loved ones. There could be a desire to meet someone new and exciting however could lead to forsaking existing people in your life. It is recommended to strengthen or nourish your existing relationship before you hit rock bottom and ending it indefinitely.
HOW DOES THE TRANSITS OF THE PLANET AFFECT YOUR LIFE?
Latest from Astrology.com.au
All the latest News and offers for your well-being