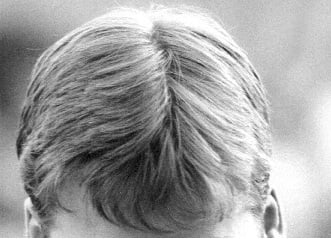 Your hair is a measure of physical insulation, endurance, and overall strength. If your hair is fine, delicate and silky, you are sensitive and also likely to be fragile physically especially if you are of a slender build. Thick wiry hair is an indication of your physical prowess and your resilience in life. You have great recuperative powers and may like a challenge in life.
Hair comes in different grades as you know. Have you really looked closely at the emotional and physical nature of those you know with fine, silky hair? They are more sensitive and physically delicate than the coarser haired person. Their actions are more refined and reflect cultural breeding. You'll find fine haired people of both sexes seem softer in their attitudes and expressions.
Your hairline has a unique part to play in defining your character and general mental disposition. Your hairline will determine the "shape" and define the area of your forehead.
Hair, its colour, thickness, fineness, density or scarcity will give you some important clues about your physical robustness as well as your emotional resilience.
The texture of your hair along with the colouring have much to say about your temperament and the way you wish the world to see you.
An earthy and more resilient nature is found on coarse-haired individuals. If your hair is thick, coarse and/or full, then you have great recuperative powers and a survival instinct second to none. It endows you with shrewdness and a capacity to handle whatever life dishes out. 
You may be fond of rugged outdoor activities and hard laborious activities that tend to test your endurance. On the other hand, a finer, softer hair is a clear indication of a less robust physical constitution. Hair is actually a remnant of what was once you! It's the extension of dead and hardened older cells being forced out of the body by newly dividing cells.
Hair comprises of the following trace metals and is based on a normal population sample:
* Cadmium 0.21 micrograms per gram
* Lead 2.70 micrograms per gram
* Lithium 0.063 micrograms per gram
* Manganese 3.50 micrograms per gram
More recently laboratories can conduct an analysis of samples of human hair to give your doctors a clear history of the physiology of the person from whom the samples come. Your hair contains an accurate biological record of chemical changes that have and are occurring within you. The picture that is painted by the hair is not unlike the information recorded in the rings of a tree trunk. Your hair records fluctuations in the normal chemical ratios of the body. 
Excessive deposits of certain chemicals also may offer clues to environmental and technological effects on your body e.g. smog, mercury in your dental fillings, chemical food additives and so on. That even the hair of your body – the discarded waste – can reveal your dietary and health moods, and at what periods of your life – so too can many of the other living features of your face – in a more direct fashion, indicate other important traits of your character and destiny.
As genetic science unlocks the mysteries of hereditary in animals and man, it will ultimately discover what books such as the Hindu Vedas have proclaimed for thousands of years. That is, that just as a tree is inherent in its seed, so too is the future of man known in his genetic "seed" – DNA Medical science already seems to be developing greater technical testing of the hereditary making of individuals. 
Tests for proneness to heart disease, cancer, and other maladies are available based on your genealogical background, inherent or genetic disposition etc., Scientists now have the world waiting with bated breath as it prods us with the notion of genetically "pre-modified" DNA babies.
Babies whose destinies are pre-programmed – physically, mentally and emotionally. On a more subtle level – the body can be viewed as a large battery – a saline solution with electrical currents moving through the system. 
Again, according to Vedic Sages, these currents are discharged through the nails and hair of your body. You've probably experience that thrill as a child when in the darkness of your room on a windy day you removed your jumper to the crackling sparks of static electricity spitting around your body.
There are many centres of electrical energy in the body. One of the most important points or Chakras of your being is the Brahmananda or Sahasrar – the top of your head. Seated on top is your hair, through which this energy is flowing. 
It's no surprise then that the idea of the body's electrical field and the planetary lunar and solar energies were thought to be linked and that certain lunar dates were far more beneficial for maintaining the power rather than losing it.
The Greatly Revered Vedic Astrologer Prof. B.V. Raman in his book "Muhurta or Electrical Astrology" says…….. "If a man shaves after food (eating), he commits a great blunder, as the electrical currents from his body, which are about to be discharged by the digestion of food, are harmfully interfered with, and as a natural consequence his health may be affected in the course of time" 
So the principle concept here is one of conservation of your energies. As always, an experience is the best teacher and will confirm or deny the above traditional views.
To have a private consultation with Dadhichi Toth – our resident astrologer… CLICK HERE!
Latest from Astrology.com.au
All the latest News and offers for your well-being