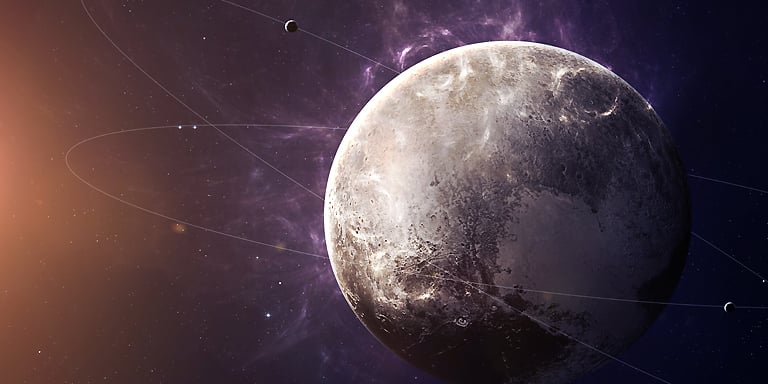 If in the scheme of Eternity, we consider Earth and human history, we may liken our current stage of development to that of an embryo. It is within this framework of our planetary 'gestation' and progress that the study of the outer planets Uranus, Neptune and Pluto are of particular interest.
This is why astrologers refer to these outer planets, as transpersonal. These celestial bodies exert a generational influence and impact humankind politically, spiritually and sociologically – being historically related to them.
The relatively recent discovery of Pluto on 18th February 1930 by Percy Lowell coincided with the invention and ultimate explosion of the atomic bomb. With its discovery, the world has been confronted, probably for the first time, with the notion of a power so great that humanity could possibly cease to exist due to its misuse. When J. Robert Oppenheimer, the famous Atomic Physicist spoke of the Atomic destruction (Pluto), he referred to the famous Hindu classic, the Bhagavad Gita and said – "We knew the world could not be the same. A few people laughed, a few people cried.
Most people were silent. I remembered the line from the Bhagavad Gita: "I am Death, the destroyer of worlds" It comes as no surprise then to see why astrologers have assigned rather destructive attributes to Pluto.
Pluto most closely aligns itself with the zodiacal sign of Scorpio – intense, destructive and dark. Pluto, however, represents more fundamental aspects of human evolution like willpower and more importantly the process of elimination and transformation.
Naturally, Pluto's manifestation is determined by our grade of evolution. For example, if in a horoscope the tendency is towards material acquisition and self-aggrandizement, Pluto's influence will impel an individual towards an abuse of power. Adolf Hitler epitomized this ruthless, abuse of power with his eighth house Pluto.
Many political and business leaders, successful criminal and underground figures are influenced by Pluto especially if associated with personal planets like Sun, the Moon, Mercury or rising sign.
Pluto is referred to mythologically by the Greeks and the Hindus. In Greek mythology, he was nominated as Hades, the God of Death and Sovereign of the underworld. This concept of death is limited, however, as Pluto's deeper significance has as much to do with rebirth as it does with the traditional concept of death per se. Death is simply another transformative stage followed by rebirth.
Pluto represents the decay and eventual disappearance of the old in preparation for the new. Likewise in the Hindu and Vedic traditions of India, Pluto as Lord Rudra ( Shiva ) is in truth Time personified. The feminine counterpart of Rudra relating to the Cosmic expression of Pluto is Kali, the Goddess of Death. The name Kali is a derivative of the Sanskrit Kala loosely meaning time and perfectly describes the action of Pluto i.e. in Time all things are born, grow, decay, die and disappear.
Due to the extremely slow and eccentric orbit of Pluto, its effect on the individual personality has yet to be fully determined by astrologers. It takes approximately 248 years to make one complete round throughout the zodiac and can spend between 15 and 20 years in a sign. This is why those who argue against its use in delineating the personal horoscope, will say it is more generational than personal, as literally millions of people are born during its transit through one sign. We observe, however, in practice, that Pluto does, in fact, have a tangible and long-lasting impact on us. These consequences can be seen in the following descriptions-
Pluto in the Twelve Signs
Discover more about the Planets.
Click on the planets you want to know more. 
Latest from Astrology.com.au
All the latest News and offers for your well-being