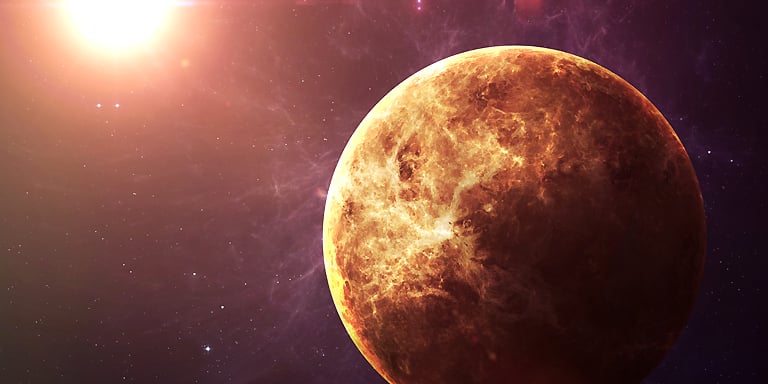 Venus is the second closest planet to the sun, and the brightest natural object in the night sky (after the moon). Venus has dual rulership over Libra and Taurus, representing two significant areas of our life – money and love. Through the zodiac sign of Libra, Venus is able to influence relationships and harmony, and through Taurus is able to effect security and material pleasures. Venus is also exalted in Pisces, representing sensitivity and self sacrifice.
Venus is considered a personal planet, a faster-moving planet that represents "ordinary" states of awareness or everyday workings of the mind. In a man's chart, Venus reflects the woman that he instinctively desires – however in a woman's chart indicates the way she attempts to present herself in order to attract romance.
While Venus is similar to Mercury, in that their cycles both take up to five months, its energy is significantly more balanced than Mercury. Venus projects gradual, lingering and harmonious waves, generally seen to rule over our sense of beauty, love and peace. Venus particularly affects our social attitudes, behavior and aesthetic tastes and inclinations – dominating relationships at every level. Venus strongly reflects our core morals and values, as well as signifying modesty, virtue, sincerity, beauty, happiness and well-being.
Venus has a strong connection to romance due to its rulership over estrogen. A strongly independent Venus reflects trouble in finding and maintaining a significant other, signifying a strong emphasis on the importance of bonding.
Venus is seen as the basic building block of society, encouraging people to socialize, cooperate and work together. This reliance is both a strength and a weakness, possibly weakening people to become much more sensitive to others – softening the personality.
---
Venus has a b rule over desire, with the word "venereal" referring to diseases of Venus. Venus is strongly focused on sexual interactions, but also the flow of money and financial situations within our lives.
Venus in the Twelve Signs
Discover more about the Planets.
Click on the planets you want to know more. 
Latest from Astrology.com.au
All the latest News and offers for your well-being