A General Overview of Gemini Horoscope for 2021
Pluto continues making its way through your 8th house of deeper psychological transformation and spirituality, 2021 will be a breakthrough year for you. This shows you are working at changing yourself for the better. It's about breaking through those habits that have held you back for so long. That's not necessarily going to be an easy task but if you are sincere, you will see some significant results.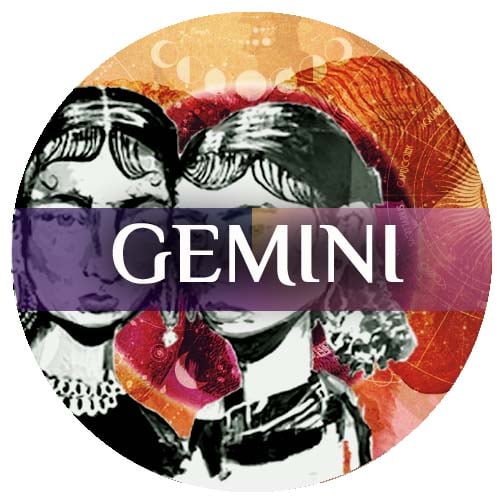 The 8th house is also a zone of intimacy. Transformations take place in your personal life. This also extends to the way you share your material resources, not just your intimate moments. After April 28 Pluto makes its retrograde move. This means the process will intensify for some months after this. It may also indicate some significant changes in your most important relationships.
On 5th and 15th of January, Pluto is transited by the Sun and Mercury. This steps up communication and discussions which will focus on how to improve your relationships throughout this year. It's your partner on board? Hopefully, that will be the case. It takes 2 to tango. Improving your knowledge about sexuality, intimacy and better personal relations is on the cards as well.
These transits are likely to be intense. Because of the disruptive influence of Uranus in your 12th house, you need to be mindful of just how much you give to others. This year is therefore about balance in terms of giving your time, energy and even money to people. This includes family members who may find it easy to lean on you because of your generous nature.
There is another positive omen as 2021 gets underway is the strong angular position of Venus in your 7th house of relationships. Because it is so closely connected with your South node, much of the past karma of your relationships will be floating to the surface. Venus in itself is good positive energy for you. Don't let the past superimpose on the present, however. If you are conscious, your catcher self-doubt and realise that dragging the past into your present relationships is a recipe for disaster.
Astrologer's Note
As a result of the transit of Jupiter in your 9th house of luck and good karma, 2021 should generally offer you some great breaks.
With the square aspect to Uranus, unexpected opportunities arise and you should be quick to pounce on them. They will be lucky chances but not at all what you had imagined. New educational opportunities are also included in this transit.
Employers or business associates may subsidise these new courses or educational degrees. Because finances are generally ruled by Jupiter, your income might also see a nice lift. You should be well paid for the work that you do in the coming months.
Eclipses in 2021 for Gemini
Several lunar eclipses occur this year. On May 26 and also November 19 these celestial events have a big impact on you. The first takes place in Sagittarius, your marital sector and Gemini, your Sun sign. We've already discussed how important your relationships will be this year. Because of the transit of the South Node, it brings up your past. You are forced to work on your personal shortcomings in spite of yourself.
The first lunar eclipse is associated with your 7th house of significant relationships. Eclipses always take place on one of the nodes-either the North or South node. Both of these are deeply connected with your future and past karma. That is why I am making such a big point of this. This occurs at the end of the 2nd quarter of the year but will have a marked influence on you throughout the remaining months of 2021.
The second lunar eclipse occurs in your 12th house. This has also been touched on in this introduction. The 12th house apart from reflecting your generosity and charitable nature have to do with spirituality. Because of this, you will be interested in deepening your spiritual insight and understanding towards the end of the year. It may be time to take yourself out of the day-to-day hustle and bustle. Spend some time alone, get back in touch with nature and reconnect with your higher self.
Jupiter transits
The transits of Jupiter are always important on a year-to-year basis. Leading up to January 18 Jupiter makes a square aspect to Uranus. This means the year starts off with a bang! You want independence and you'll be looking for ways in which to assert that in every department of your life.

Jupiter is favourable to the Sun around March 13. This is a good karma aspect bringing happiness and good fortune. Try to capitalise on this especially because Saturn, friendly planet to you is in connection to Jupiter at this time as well.
Astrologer's Advice
This is a junction point of your past and future karma. Use the wisdom of your past to springboard into a better future.
Jupiter makes its way into your 10th house of career and professional opportunities on May 14. This will be short-lived as it does an about-face soon after. On June 21, Jupiter goes retrograde. You must be careful that all the good work you've accomplished in your professional sphere isn't all undone. You have to be more meticulous around this time and not leave anything to chance.
Jupiter's transit through your professional sphere continues till it again goes direct on October 18. Your business relationships will also come under scrutiny. Jupiter's influence on your 3rd house of communication relates to the way you negotiate and also convey your ideas to others. Its expansive nature means that you can expect a more optimistic cycle with its presence here. Your business relationships will feel the benefits of this incredible transit.
The 7th house also relates to business partnerships and the general public. These transits activate your popularity and give you a better sense of what the general public, including your clients, might want. If you're actively involved in sales or generally dealing with the public, you'll find a much better response to your style.
Love and Romance for Gemini in 2021
What's happening in your love life, marriage and social arena?
Jupiter is your principal planet of relationship. It governs your long-term committed relationships including marriage or de facto live-in arrangements. While it transits your 9th house throughout 2021, you can expect a much better connection with the one you love. After having transited through the 8th house over the previous year, it shows that there have been some important developments in your love life.
The placement of Venus in your 7th house at the outset of the year is a great kickoff 2021. It shows your love and commitment is strong. You also want to spend more time with your lover.
With the transit of Neptune in your 10th house, it's likely there will be some confusion surrounding how you feel about yourself. As the relationship you have with your own being is the most important relationship of all, it's important you get this right.
Astrologer's Note
There are two significant transits of Neptune this year. They are its stationary and direct motion. Those changes occur on June 26 when Neptune goes retrograde in its own sign of Pisces.
Retrogression usually means you are going to review something. In this case, it has to do with your own inner happiness and moral choices. This retrograde motion will continue up until December 1 at which point it will go direct. Throughout this period, you will be thinking about who you are and how you can best deal with the people you want to be with.
There may be aspects of your own personality that need to be adjusted so that you can attract a better quality of person into your life. This applies equally to your social life as it does to your intimate personal relationships. It's influence on your 4th house also calls into question your relationship with family members.
Mars starts the year in your 11th house. This is an aggressive planet which can show there are some problems in your social sphere. Someone or more friends may be aggressive and this could cause you to recoil from your connection with them.
By January 7, it also makes a challenging aspect to Saturn. You will be extremely frustrated and no doubt angry during this transit. You will rethink your social agenda. Whatever you try to do maybe opposed even if you are trying to make peace. This could cause you to look for a new circle of friends at least in the first part of the year.
Friendships are challenging at the outset
When Mars makes a conjunction to Uranus, you might find yourself bottling a lot of feelings. That's because this conjunction takes place in your 12th house. The 12th house is the hidden part of your horoscope and could show that you will be brooding rather than speaking up about any dissatisfaction you are feeling in your relationships.
Furthermore, Jupiter makes a challenging connection to Uranus on the 23rd. If you've been feeling frustrated, you are likely to do something out of the ordinary now. That may come out of the left of the field and will surprise everyone not only you.
You want to be independent and will do things you haven't tried before. You'll be looking to expand your social circle but also to seek out people who are a little offbeat and unique in their views.
On the 18th and 25th the Sun and Venus, transit the 10th house. Although you'll be busy workwise, it's also quite likely you will be finding a crossover between your social affairs and the work that you do. This should be a time when you meet new friends and acquaintances through mutual connections in your workplace. Some of you, if you are lucky enough and other transits in your personal birth chart agree, may meet someone that can become a true romantic partner.
Domestic activities heat up
The 4th zone of your Sun sign chart has to do with your family affairs. Venus transits here on July 22. Mars follows it closely after July 30. This indicates a mixture of energies in your domestic sphere. Mars and Venus make you passionate for family and friends. It generally shows your inner emotional life is also more animated and demonstrative. You may want to show your love by expressing it through gifts and other familial actions.
With Venus in this part of your chart, you will also want to entertain friends, lovers and family in the comfort of your own home. This will continue for a while because on August 12 and 23rd, Mercury in the Sun both respectively transit this area as well. July and August will therefore be more concerned with your home life rather than actively being out partying or clubbing with friends.
Domestic activities heat up
The 4th zone of your Sun sign chart has to do with your family affairs. Venus transits here on July 22. Mars follows it closely after on July 30. This indicates a mixture of energies in your domestic sphere. Mars and Venus make you passionate for family and friends. It generally shows your inner emotional life is also more animated and demonstrative. You may want to show your love by expressing it through gifts and other familial actions.
With Venus in this part of your chart, you will also want to entertain friends, lovers and family in the comfort of your own home. This will continue for a while because on August 12 and 23rd, Mercury in the Sun both respectively transit this area as well. July and August will therefore be more concerned with your home life rather than actively being out partying or clubbing with friends.
Love affairs
If you're curious to find out about your love affairs, soulmates and other emotional opportunities, the transit of Venus deliberate on August 16 is a great time to make yourself available. Mercury also makes its way into the same area on August 30. Mars and Sun really pump you up on September 15 and 23 respectively. These fire planets indicate access to passion, competitiveness and unbridled sexual desire.
Overall this is one of the best periods of the year to stake your claim on the one you love. If you have your eye on someone this latter part of the year promises to be fulfilling and very sexy too.
In the last quarter of 2021, the same above 3 planets make an even bolder statement romantically as they transit your 7th house of love and marriage. Venus transits the 7th house of Sagittarius on October 7. This is a return to where it was as the year started. For those seeking long-term commitment or even marriage, Venus often makes it happen. Those attached already can expect the last part of the year to be again, one of love and deep affection.
Career and Finance for Gemini in 2021

You're focused on work this year. Not just any old work. You've already decided you want to achieve a huge amount and that shown by the square aspect of Mars and Jupiter. That occurs on January 23 and sets the trend for the rest of the year.
You will get great results from this because there are also supporting aspects to the Sun and Pluto on February 25. Your physical energy is strong and your drive and willpower and fuel to your ambitions.
Business partnerships are looking good this year. Studying the planets transiting the 7th house can be very revealing. In this respect, the May 26 lunar eclipse will be a very powerful marker for your finances. The reason this is so is that the Moon rules your 2nd house of income. The eclipses herald big turning points in your business life. Mark this in your diary is an important juncture in 2021.
The solar eclipse of June 10
There is a solar eclipse soon after, on June 10. This takes place in your Sun sign and it, therefore, speaks loads about how you are primarily the most important ingredient in your professional or personal affairs. How you conduct yourself and manage your personal energies will be very telling this year.
You may decide to change your attire, your personality or even your job. The eclipse takes you into yourself. You will want to dig deeply into those best parts of your nature. You are committed to being successful.
For those of you in business, the 11th house is important in determining the amount of profit you can make. The Moon makes its conjunction with the Sun on April 12 in this very area. You may be looking at new business ideas which trigger fresh sources of income.
The new Moon on January in Capricorn shows that you will be looking to become savvier in your business relationships. This takes place in your 8th house which has to do with banking, finance and the way in which you share the money and resources of other people.
Your year is not without its fair share of opposition and strain. On June 6, Mars opposes Pluto. You could be obsessing about earning as much money as you can. Don't forget that Mars as well as ruling your profitability, also relates to friendships. You don't want to burn friends nor get people offside, generally. If you're angry or frustrated it's best to step aside for a while until the dust settles.
Hard work is likely to be the dominant feature of your life after July 1 when Mars makes an opposition to Saturn in July for a square to Uranus. You'll be torn between doing things in the old-fashioned traditional way or breaking ranks and attempting something new, even avant-garde. You want something cutting-edge but not everyone is going to be able to keep up with you.
The new Moon in critical finance sectors of your horoscope can also be very revealing. They show when you are likely to see big turning points in your financial timeline. A very important new Moon in Leo, your 3rd house of contracts and negotiations occurs on August 9. These planetary aspects point to new opportunities but also with the opposition to Jupiter, a certain amount of over-optimism is likely. Keep it real and always look at the fine print.
Throughout September October there may be some pressure on you workwise. It's important for you not to overdo it. You could be burning the midnight oil with Venus transiting through Scorpio, your 6th house of work environments of September 11. On October 23, the Sun and then on October 31, Mars, also make their impact on this area.
The fiery planets like Sun and Mars can cause all sorts of problems with co-workers. This may also affect your health. Eating too quickly, on the run and also not paying attention to your body signals and result in lowered vitality and even ill-health.
Astrologer's Advice
Try to get a better schedule together to balance your personal and work life at this time.
Karma, Luck and Spiritual Insights for Gemini in 2021
Saturn and Uranus are your principal spiritual planets. They rule and code rules your 9th house. The stationary direct movement of Uranus on January 14 gives you the momentum you are looking for to seek a greater understanding of yourself. The April 29 trine to the Sun is significant as well. You are likely to have brilliant intuitive insights.
Find out more about your karma and how you can improve your luck CLICK HERE!
Your meditations can be electric and you are likely to have very vivid dreams at this time. You should trust the dreams you have and possibly even keep a dream diary. Study with the events you've dreamt about actually come to pass. You'll be absolutely surprised at how your dreams, this year, can be one of the important premonitions.
Both Saturn and Uranus will make significant retrograde and forward movements throughout the year. Firstly, Saturn will square Uranus on February 18. This simply means your values and belief systems will be under tremendous scrutiny. You are realising that some of what you've been carrying as a religious and philosophical platform to live by, isn't cutting it anymore. You'll be challenged to try new things while at the same time eliminating those outdated methods.
Saturn goes retrograde on May 23 and then directs on October 11. Uranus makes its retrograde station on August 20. All of these dates point to some significantly important turning points in your awareness and understanding of life generally.
You are moving into a new cycle now and what a deeper understanding of things. Superficial answers won't satisfy you and neither will superficial people. You're ready now to jettison yourself into a new phase of life. That may mean eliminating many people you once thought understood you. As you evolve and grow, you will realise that not everyone is on the same level as you.
Astrologer's Advice
It's time for a change and you are more than ready for it. 2021 will be a memorable year if only for this specific development in your life.
2021 Zodiac Yearly Horoscope Quicklinks:
Latest from Astrology.com.au
All the latest News and offers for your well-being