A General Overview of Pisces Horoscope for 2021
At this stage of your life, you might be wondering what the hell is going on, Pisces?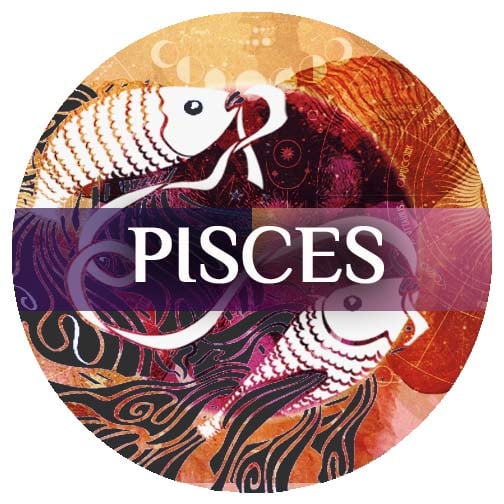 This question takes on monumental proportions particularly because of the great conjunction of Jupiter and Saturn in the latter part of 2020. For you, this celestial event is even more important than the other star signs. The reason for this is that Jupiter is one of your ruling planets.
This conjunction has taken place in your twelfth house and causes you to question everything about your life. The twelfth house has to do with spirituality and seeking meaning. It also has to do with pulling back, gathering your internal resources to gain a deeper understanding of your life purpose. Saturn is the ruler of your twelfth house so that adds weight to this theme of spirituality, self-understanding and higher purpose. More be spoken of this in the karma, luck and spirituality section of your reading for 2021.
As Jupiter also rules professional activities you are on a path now that is trying to connect the material side of your life with the spiritual as well. Your work commitments may conflict with domestic demands. Balancing these two areas of your life will require some creative work on your part. A sense of duty must be balanced with compassion for those you love.
Domestic Needs Cannot Be Ignored
>With the North node or karmic point transiting your fourth house this year domestic needs cannot be ignored. This is why balancing work and family will be a challenge. If it's possible, you may need to take some time out to focus exclusively on one of these so that you do one of the other properly. Give more attention to the domestic part of your life. Once you have that under your belt, you will feel more comfortable giving your full attention to work and doing well in that area of your life.
Speaking of your work, on a more material note, you're well-poised to experience some great things in your professional life in the coming 12 months. First and foremost, the angular position of Venus in the upper part of your horoscope dominates the chart as the year commences. Venus, the sociable planet, adds a little more fun and lightheartedness to the work you do.
With the Sun, Mercury and Pluto transiting your 11th house at the start of the year, renewing your friendships will be high on your agenda. It will also be connected to your family and home life as Mercury rules your domestic life. Entertaining in the comfort of your own home will be an enjoyable pastime.
Eclipses are scattered throughout the year and also have important relevance for you Pisces. The May 26 lunar eclipse which happened in your career sector further accentuates what has been said about work being an important element of your life now. It's at this time, you may cut off many of those extraneous activities to give that needed attention to your loved ones.
The Moon and Your Creativity
You might hit a bump in the road at this time. If you don't feel the creative juices flowing, it's better to mothball an idea rather than banging your head against the wall fruitlessly. The solar eclipse on December 4 also transits this same area of your horoscope. This transit reflects the changing environmental and co-worker arrangements that you have professionally. Those that work for you are also part of this revamp you are going through. You may not be able to fully get on top of all of these threads until the year is completely over.
On June 10, the solar eclipse in your zone of family affairs is also significant. The Sun is the natural ruler of one's father and the paternal lineage genealogically. Figures, particularly older ones. Authority issues may also present themselves on or around this eclipse. Rather than sweeping these issues under the rug, why not take the time to address any problem that has been buried, even maybe temporarily forgotten?
The fire to eclipses, the first time being in Taurus on November 19 is about communication and contractual arrangements. The third house of your horoscope where this eclipse takes place also contains Uranus during this time of your life. It can be destructive and is also retrograde as 2021 starts.
Contracts Must Be Looked at with a More Detailed Analysis
You must be clear and concise in the way you convey your messages. Any sort of contractual agreements must certainly be looked at with a more detailed analysis. If you are impulsive, and this is shown by the transit of Mars into this area early in the year as well, you may find it hard to backpedal. It's better to defer decisions until Uranus goes direct on January 14. Even that it's better to wait for a while to ensure that you have all bases covered.
Jupiter, your ruler makes several important retrograde and forward moves this year. You'll feel much more in your element when the transits into your Sun sign on May 14. It remains in Pisces until July 28 when it makes its retrograde motion back into your 12th house of spirituality. Perhaps there's unfinished business from your past all these spiritual questions that are plaguing you. In any case, you have an opportunity to resolve these questions up until December 29 when Jupiter finally, on its last legs, transits back into Pisces.
Love and Romance for Pisces in 2021
What's happening in your love life, marriage and social arena?
Mercury, the Moon and Saturn govern your romance, marriage and social affairs. Venus is the natural ruler of love so that should also be looked at as astrologically, it's Pisces is the sign of its exaltation and holds a special significance for you also ruling your eighth house of sexuality.
The Sun and Venus make you more attractive to the opposite sex when they transit your Sun sign. The Sun makes its way through Pisces study on February 18 up until March 21. Venus is far behind and ramps up your magnetic appeal after February 25.
Figure out New Ways to Express Yourself
Mercury makes you less confident when it transits your Sun sign on March 16. If you're feeling flat and unimaginative, you need to figure out new ways to express yourself. It's a time of seeking to eliminate the habitual in the way you convey your feelings and ideas all. Your creativity is being thwarted at the moment. You could be in the shadow of someone who has much more confidence than you.
Primary qualities to lead with during this cycle are good looks and charm but most importantly the imagination and creativity that go behind that. You'll be able to look more desirable, interesting, intriguing and generally presentable, and that will be your wedge into every conversation, your foot into every social door.
Venus makes a move to your fifth house of love affairs on June 2. You feel enthusiastic and confident romantically during this cycle. You're ready to tackle your love affairs with a new level of excitement and positivity. Singles can look forward to not just one but multiple opportunities in seeking out their soulmates. Your creative energies are also boosted during this transit. The transit of Venus in your fifth house is an excellent forecast for an amorous push in your social affairs. You will have an impact on the opposite sex
The Sun enters your fifth house on June 21. Don't be afraid to share your creative concepts with others. Selecting the appropriate one for the situation requires a stroke of genius. This may relate to a domestic issue. Family members are obstructive. You may have to pull rank and not explain the reason for the new rules you're laying down. Try not to assess your self-worth based on your work achievements. Hold on to your self-confidence and take time to gain further understanding.
A Cooling off in Your Relationships
When Venus and Saturn a period of cooling off in your relationships is likely, the opposition aspect between Venus and Saturn occurs on July 7. Leading up to this time, you may find yourself aloof and unable to share your deepest feelings with the one you love. It's time to seriously consider the deeper issues of your relationship. If you're finding that you and your partner or spouse have drifted, you must jump on that immediately. The more you avoid each other, the deeper and more serious those issues will become.
Mercury, the playful planet, brings excitement to your romantic affairs when entering the fifth house on July 12. You'll find this transit to be a creative period in which you want to express your deepest feelings. Reach out to the one you love and invite them to share in a little entertainment with you. You might also be fickle. If you're in some sort of relationship, try to find a way that you can combine your hobbies with your love life. This gives you both interested in trying new things.
You can get your relationships back on track with the transit of Venus in your seventh house on July 22. Issues of responsibility arise in connection to your relationships, particularly your marriage, or long-term partnership. If you're not married, this could be the time when you seriously think of tying the knot. There could be festive occasions associated with friends or getting engaged or married as well. It's a celebratory time.
On August, you have some romantic drama to deal with. It could be related to a third-party or a mutual friend. Mercury opposes Saturn August 2 along with the Sun. Venus is also in opposition to the Sun on August 7. These hard aspects make it difficult for you to feel any sort of romantic flow. In respect of friends, you don't want to be seen to be playing favourites, but both sides are demanding your attention. Issues of jealousy and time restraints make it difficult for you to give everyone their fair share of you.
Your Eighth House of Sexuality in Deeper Intimacy
One of the better aspects of the year occurs on September 5. Mercury and Saturn form a trine aspect. Mercury will be transiting your eighth house of sexuality and deeper intimacy. You feel a greater friendship with your spouse or partner as well. This is because of the rulership of Saturn of your zone of friendship. Although the communication may be of a more serious tone, you'll make great headway and feel as though your relationships are back on track.
Although Mercury makes several retrograde movements throughout 2021, the one on September 27 in your eighth house of deeper intimacy is important. This is an additional vibration to the one above. It remains here until October 19. You may be rethinking aspects of your sexuality or your partners. It's a great time, again, to vent your spleen if there are elements of this part of your relationship that you need to improve. Your partner will be amenable to your openness.
With Venus transiting your 11th house of social activities on November 5, you must try to overcome any shyness or awkwardness you feel in groups. This could be related to finding yourself in an unusual environment or people you normally don't hang out with. You're probably happier playing the field rather than giving yourself over to any committed relationship if you are single. Mercury also makes you more playful rather than serious on its entry to this same area on December 14.
On December 29, Mercury and Venus make an important connection in your zone of life fulfilment, your eleventh house. This is an exceptionally wonderful transit to finish the year off. It takes your love life to the next level.
Career and Finance for Pisces in 2021

Jupiter, the Sun and Mars define your work and income. The transits of these planets during 2021 will determine how successful and wealthy you will be.
Mars makes its way into your sixth house on June 11. You'll be forcefully trying to convince co-workers of your point of view during this cycle. Just because you get a nod doesn't necessarily mean they subscribe to your particular perspective. This transit has to do with your work and professional objectives and how you deal with those you work with.
Differences of Opinion
It also refers to those who serve you in some way. There may be some backlash or differences of opinion. This is the nature of Mars so you must tread carefully. It could be something you've said or done inadvertently. Don't escalate issues with them. It's best to let it slide.
You're more fortunate workwise when the Sun and as your sixth house on July 23. Your competitors will fall by the wayside. The Sun's transit in this area gives you strength and confidence to overcome your enemies. If people have been backstabbing you or trying to undermine you in some way you will come out on top during this transit. The only note of caution is that you must not push yourself into the ground. Take adequate rest and separate your work from home life.
With your confidence drying midyear, you must be careful that your desire to expand far and wide doesn't exceed your capabilities. On August 20, the Sun will move to a perfect opposition of Jupiter. It's not necessary to try too hard or to push others. You'll feel as if everyone is dragging their feet at this time. Your immense energy and breadth of vision may be too much for them. Others may not be able to keep up with you. Patience and compassion will be keywords for at this time.
Educational Pursuits Assist in Your Efforts
If you are patient, the Sun moves to a much better transit making a trine aspect to Jupiter on October 15 while four days later, Mars, also makes a similar trine aspect to Jupiter. You can reach out to other people and vice versa. You have the support of others in executing your plans no matter how big they are. Educational pursuits will also assist you in your efforts. Your work may foot the bill for some training which will improve your skills over time. You may also be willing to take a gamble, that could be financial or in a professional sense.
You may need to bring the pressure down somehow as Mars, while imbuing with confidence, could also make you oblivious to how much energy you're expending at work. Make time to exercise, and spend time with those who relax you. You need balance at this time to help support your spirit of enterprise.
Get rid of a few things and allow your originality to shine. You'll be tested and find yourself under a lot of pressure with the influence of Mars. The trick is to not react too strongly to what's being thrown at you. You'll be more focused on money. Don't, however, let materialism distract you from the true meaning of life. You shouldn't feel too bad if someone copies your characteristic manner or work style. Remember, imitation is the highest form of flattery.
Take care with agreements particularly around the time of the lunar eclipse on November 19. This eclipse occurs in your third house of negotiations and important contractual obligations. Financial contracts float to the top of your to-do list. How you transact with others will be very telling on the outcome of your financial status. If you're dealing with someone pushy, know exactly when to pull back and when to push. Remember, everything happens in its own good time and impatience isn't going to make things happen any faster.
Success at the Tail End of the Year
The Sun and Mars make contact with your 10th house, the upper part of your horoscope on November 22 and December 13 respectively. These planets gain directional strength and ensure success at the tail end of the year. The directional strength also indicates a southerly direction is more fortuitous for you. If something arises where there is an opportunity south of where you live you might like to strongly consider that as an option for your future work.
Jupiter finishes the year on a high note moving back into your Sun sign. This sets the trend for good luck and great karma in the coming year or two. Enjoy it by basking in the sunshine of good fortune.
Karma, Luck and Spiritual Insights for Pisces in 2021
In 2021 you bring skills from your past life into your workplace. The South node or past karma point is transiting the upper part of your horoscope. This means you should dig deeper into yourself to use those talents that you may not have thought existed. Perhaps you have a skill previously, earlier in this life but let it go. This requires some self-examination and meditation to bring them to the surface.
Karmic Havoc with Finances
Mars kicks the year off in your second house and spends a little time there causing a little havoc with your finances. That's also shown by the hard aspects from the natural karmic planet Saturn in your 12th house of loss. Expenses may be high and this is also related to some of your past actions. You may have taken your eye off the ball and are now paying the price. Mars also shows arguments associated with money. These are all karmic issues.
The North Node, the karmic point which shows where you are challenged is in your domestic sphere. That's going to spend some more time there and demand that you pay attention to what may be lacking in your personal life. The nodes are opposite each other and this means balancing your work and personal life more effectively than you have in the past.
Trust Your Intuition
Later in October, Mars transits your ninth house. The ninth house is the principal spiritual zone along with the twelfth house. Listening to the advice of too many people will make you indecisive. Sometimes, advice given for free is the worst advice of all. There's no shortage of experts! Trust your intuition rather than listening to others claiming to be gurus. Your instinctive reactions cause you to stand in defence of some principle. This influence will also make you more energetic but could make you too charitable. 
Astrologer's Advice
Be strategic in your spiritual moves as your material ones.
2021 Zodiac Yearly Horoscope Quicklinks:
Latest from Astrology.com.au
All the latest News and offers for your well-being