A General Overview of Sagittarius Horoscope for 2021
The end of 2020 went off with an astrological bang Sagittarius! The great conjunction of your ruler, Jupiter, and Saturn was a once in many lifetimes event. Naturally, this is going to have significant ramifications for you over the coming couple of years. This conjunction continues to impact you and is slowly reshaping your mind and communication style.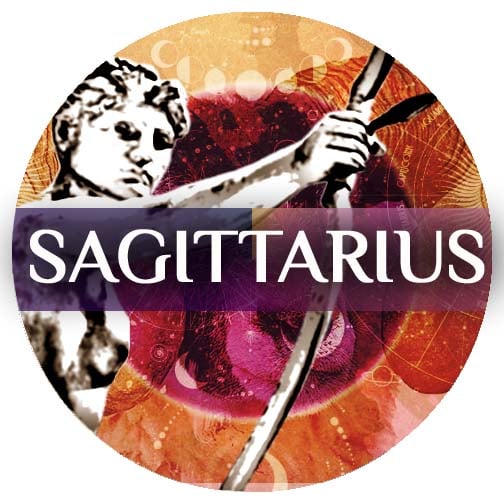 Jupiter and Saturn are naturally opposing forces. Their archetypal meaning seems to be at odds. Jupiter, the expansive happy and optimistic planet is now associated with Saturn. This is ordinarily considered a more serious and introverted force and they both battle it out in this area of your horoscope. It needn't be a battle. If you're able to judiciously blend the expansive and focused energies of both this will result in a rather remarkable and positive influence on your life. Naturally, communication is at the heart of every relationship you enter into. That's why it's so important to use this transit as wisely as you can.
Your Communications Will Be Tested
There are very important transits associated with Jupiter this year and they begin right at the outset. Jupiter makes a hard riding the aspect to Uranus which is located in your sixth house now. Straight from the get-go, your communications will be tested with the people you work with. This idea can be extended to those who work for you or serve you in some capacity. Uranus is notorious for producing unexpected events. The beauty of astrology is in being a step ahead of these changes and managing them appropriately.
Astrologer's Advice
With these challenging aspects, you must be organised in your scheduling. Don't leave anything to chance.
The peak of this first transit occurs on January 18 but is repeated on February 18, June 15 and even late in the year on December 24. This is because Jupiter will be making retrograde and stationary movements-that is going in an apparent backward and forward motion. Given the influence will affect you for the whole 12 months, you must get your time management completely under your control as 2021 starts.
Strong Domestic Instincts
For a while, Jupiter makes a quick entry into your fourth house of property, family and inner peace and harmony. This year it won't make the conjunction of Neptune which is also transiting this pivotal part of your horoscope. It's sufficient to say that after May 14 when it transits the fourth angle of your chart it will trigger your domestic instincts. 
It remains here until its retrograde movement on June 21. It exits back into your communication sector on July 28. During this period, you will be discussing matters at home and family, possibly purchasing furniture or goods for your living space. You may also be looking at renovating or beautifying the space in which you spend most of your leisure time. Because Jupiter is your ruling planet its presence in any house of your horoscope accentuate where you will identify most.
As it moves away from Saturn, you'll feel less restriction. Your start to experience the freedom you haven't had for some time. One of the other key aspects of your third house is the fact that it regulates your short travels and journeys of the body as well as the mind. You'll find yourself exceedingly busy during this phase of your life.
Don't Be Too Overconfident in Your Contractual Obligations
The third house has to do with your contractual obligations. Jupiter tends to make you overconfident. Slow things down a little especially if you're making a big commitment in matters of property purchase, or other big-ticket items. You want to avoid buyer's remorse especially if you're putting a lot of money down on the table.
Saturn will remain in the third house of your horoscope as well. With everything said above, it's nice to know that the more cautious financial planet for you is deliberate by nature. This will put the brakes on when needed. You won't be quite as haphazard in writing out those checks or being overly generous with friends and family. You will be second-guessing yourself a lot this year.
As a general overview looking at the eclipses are a great way to see how the timeline of the following 12 months will be punctuated. The first eclipse is a lunar eclipse taking place on May 26. This is a powerful one as it occurs in your Sun sign of Sagittarius. This points the energies back fairly and squarely on you. The first house or Sun sign is the definition of who you are as a person, your personality and essential willpower. 
A Turning Point in Your Self-Awareness
The lunar eclipse taking place here is an important turning point in your self-awareness. The Moon rules your eighth house of self-transformation and inner evaluation. If your emotions have been ruling you now, you'll find yourself in greater control of your feelings. This can only be a good thing as being more controlled in your responses to others gives you the upper hand.
The other important thing to note is that the year commences with its powerful opposition from the Moon to Saturn. This again ensures that you will have a desire to get on top of those feelings, especially negative ones that are adversely impacted your relationships.
The solar eclipse of 10th of June brings your attention back to your marriage and relationships. This eclipse occurs in your seventh house where the North node or karmic point is transiting currently. Those issues that have been undermining your love life will come to the fore. You'll be forced to deal with romantic problems despite yourself.
The lunar eclipse on November 19 takes place in Taurus. This one is a warning which you must heed. Your sixth house to relate to health, diet and debts as well as enemies. It's a good time to take stock of your life and all of those areas that are under the rulership of this house.
Finally, the solar eclipse of December 4 is again in your Sun sign. This accentuates the earlier lunar eclipse of May 26. The Sun is the ruler of your ninth house of philosophy, belief systems and education. It also has relevance to your long journeys and spiritual awakening. All of these areas will be triggered by this powerful eclipse at the very end of 2021.
Love and Romance for Sagittarius in 2021
Greater Magnetic Appeal with the Opposite Sex
When 2021 starts, Venus will be transiting your Sun sign offering you loads of magnetic appeal with the opposite sex. This energy will easily attract new people into your life. Because this planet is also in contact with your karmic points the people you meet may be easily recognisable even though you won't quite know why. The feeling will be mutual. Some of the friends you connect with during this period will have a strong karmic history with you. As the relationships unfold, you will start to intuitively understand the greater purpose for you crossing paths.
With Mars right-angled to Saturn, there may be some frustrating moments especially in the first month of the year. Mars is transiting your fifth house of creativity and competition. Having Saturn is unsavoury reins holding you back that you don't have to find some sort of way to manage those frustrations.
Some Unexpected Event Relating in Matters of Love
Moderate your activities and your desire for pleasure. Some unexpected event relating to matters of love could unsettle you. Be careful not to bring outside problems home now. This will only add another layer of complexity to any issues you're dealing with emotionally. Don't superimpose work issues on your family. It's often easier to take your frustrations out on the person you love and vice versa.
Astrologer's Advice
Try to see beyond the superficial challenges to reach for an agreement if possible. Spend time with loved ones even if you don't have a lot of it. Know when to draw a line in the sand so that you don't compromise personal values in the process. Learning limits will be an important lesson during the Mars and Saturn hard aspect.
If you happen to be a parent, the fifth house will have greater relevance for you in terms of your children. Unruly kids can indeed become very frustrating at times. Mars is also the opposite force of Saturn. Mars is gung-ho whereas Saturn is reserved by nature. These energies don't blend well. The onus is on you to find constructive ways to deal with this sort of self-limiting energy.
A Revision of Your Personal Life
On January 31, Mercury moves into its retrograde motion and remains that of February 21. This means there may be some revision of your personal life that is necessary. You may need to keep your insights to yourself at least until after February 10 as Mercury will make a right-angled to Mars which is notorious for disputes and differences of opinion. The conjunction of Mercury to Venus on February 13 is, however, a pacifying influence. It's up to you which one of these forms of energies you choose to use at this time.
Passions flare when Venus and Mars have any sort of contact. On January 10, the trine aspect to Mars is an excellent one. Mars is transiting your fifth house of love affairs and so it's only to be expected that some sort of emotional and physical attraction will take place during this transit.
A Restless and Adventurous Cycle
Later, on February 20, Venus makes a square aspect to Mars. From February 2, it's transiting your third house making you restless and adventurous. The square aspect is usually a difficult one but, in this case, indicates a lack of taste or poor choices in the people you want to hang around with. Greater discretion is necessary at this time.
On March 4 Mars, your love affairs planet moves into your seventh house of relationships. This is also a very passionate time but one where you may be aggressive in chasing those things you want for yourself. Mars will oppose your Sun sign throughout its transit here until it makes its way into your eighth house of sexuality and intimacy. You'll be demanding your desires be filled at this juncture.
Playful Mercury makes its way into your fifth house on April 4. You can expect lots of fun times with enjoyable outcomes during its transit of almost one month in this area of your chart. On April 5, Venus also makes a trine aspect to the Sun. Friendship and love will predominate. You also want to make yourself more physically attractive during this cycle. There's no doubt you will have the desired impact on others.
Later, on May 4 Mercury also has a say in your relationships, especially those of a serious nature. That's because it may take transit of your seventh house, the western part of your map. This one-month transit is excellent for any sort of communication, negotiation and re-evaluation of the relationship.
The Sun Adds Its Shining Energy to Your Relationships
It's not a bad time to do earlier in the month as Mercury goes retrograde on May 30. It does that, however, after making another excellent connection with loving Venus. That results in productive conversations which promise compromise and harmony between you and the one that you love. The Sun also adds its shining energy to your relationships on May 21 when it connects with Mercury, Venus and also Mars which will be transiting this area of your horoscope as well.
Astrologer's Advice
A delicate balance is necessary with someone much planetary energy in one area of your chart.
August and September will stand out as months when friendship is at a peak. The reason for this is that on August 16 and 30 Venus and Mercury, respectively, transit your 11th house. You may have an almost obsessive need to connect with others at this time. Don't ingratiate yourself as that will reduce your value in the estimation of others. There's no harm in communicating your feelings with Mercury giving you the gift of the gab. You may also need to act as a mediator between third parties. That may be hard not showing a preference for one over the other.
October, November and December are powerful months for you in terms of your relationships. Venus, the Sun, Mercury and Mars all make a transit of your Sun sign during these months. The transit of Venus accentuates what started at the outset of 2021 with the Sun and Mars adding some to the astrological recipe. You can't help but make an impact on others. You must listen as well as talk. Mercury and Mars may cause you to become opinionated and this may have the exact opposite effect of what you're looking to achieve love-wise. Listen twice as much as you speak. That's why you have two ears and only one mouth.
Career and Finance for Sagittarius in 2021

Your concentration levels are up in 2021. For that, you can thank the particularly strong conjunction of Mercury and Saturn on January 10. On February 6, Venus also makes contact with Saturn. This gives you the ability to have great work outcomes. Saturn and Venus can cool your affections making your love life a little less than favourable if you're putting all your eggs in the career basket.
Maximise Your Profits and Income from Self Exertion
These transits take place in your second house of income. Your focus will be fairly and squarely on how you can maximise your profits and income from self-exertion. Pluto is ongoing transit here and is also a transformative influence on your value system generally. The Sun, Mercury and Pluto act as a triumphant triplicate to ramp up your money-making energies in 2021.
These same two planets, Venus and Mercury make a hard aspect to Saturn from your fifth house of speculation on April 25. You must be careful not to thoughtlessly spend, invest, or rather throw away your hard-earned cash without adequate research first. Well-informed and researched investments are a different matter. Seek the advice of experts before you venture into the stock market or other get rich quick schemes like bitcoin et cetera
You're focused on your work schedules and co-worker agreements throughout May. On May 4 and 9th respectively Mercury and Venus transit this area of your horoscope. Health matters may also need to be checked against the hours you are working. You could be burning the candle at both ends and need to put a stop to that. Managing your time more efficiently is necessary not just to earn more money but optimise your well-being.
Partnerships Are Well Favoured
Partnerships are well favoured with the transit of Venus and Mercury through your seventh house in June and July. You may meet new people who have similar views regarding money.
Remember,
if you're thinking of starting a business alliance you must have similar commercial goals and philosophies. You'll be spending a lot of time with those people you work with when you consider that eight hours a day adds up to almost a third of your life.
You must expand your thinking in August particularly around the second when Mercury opposes Saturn. It may be hard to break free of some of your old patterns and the way you do things. Education and improving your skill sets are shown after August 12 with Mercury transiting your ninth house of higher education and mental expansion.
Your Business Acumen is Getting Stronger
A couple of your best transits take place mid-August with Venus transiting your 10th house on August 18 and Mercury on August 30. Your business acumen is getting stronger and you're able to blend your commercial skills with great sociability. Making friends as well as business associates takes place during these important transits. Greater emotional responsibility is required under these astrological transits.
It brings your emotional and business instincts into focus but perhaps also into conflict with others. It appears that social terms may be blurred and that you or others may be unaware of the impact you have on certain individuals. It's going to be difficult to draw the line between where business and pleasure begins. For this reason, try to set yourself some guidelines that ensure you don't find yourself in an embarrassing situation.
Karma, Luck and Spiritual Insights for Sagittarius in 2021
A once in a lifetime conjunction of Jupiter and Saturn in your third house of communication. Saturn is a karmic planet and Jupiter is a spiritual planet. Naturally, the coming together of these two planets in your third house which rules your mind thinking and interactions is an important planetary combination. It also fully influences your ninth house which relates to your higher mind, spiritual wisdom and gurus and mentors.
You Need a Teacher with a Beefed-up View of the Universe
You'll need a more progressive teacher right now, someone with a beefed-up view of the universe who isn't stuck in the old ways. You want broad-minded people in your life. If your traditional mentors haven't been serving you well, don't be afraid to seek a genuine teacher who can help you exactly where you are at this stage of your life.
Astrologer's Note
You're going to have thoughts about travel. Travel is a great way to enhance your understanding of human nature. This in turn will provide you with greater self-reflection. You should only reveal what's essential as this may be used against you.
It's called the great conjunction and even though it occurred on December 21/22, its influence is going to be felt for a long time into the future. It has an impact on us individually but will also dramatically shift the course of humanity as we move into the age of Aquarius, the Sun sign where the conjunction is taking place.
Your greatest luck will rest on your ability enhanced your mental and spiritual knowledge. Wisdom is indeed the basis for attracting the good luck that we all wish for. When the Sun transits your ninth house in August in your twelfth house in November, great strides can be made in your spiritual aspirations. The latter part of the year may find you are seeking more seclusion. You will need time alone today just the experiences that are reshaping your view of the world in your life generally.
2021 Zodiac Yearly Horoscope Quicklinks:
Latest from Astrology.com.au
All the latest News and offers for your well-being